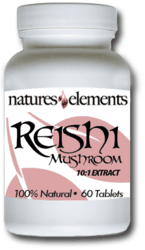 I've only been on Reishi Mushroom for a few weeks and I definitely feel that I handle stress much better, I don't get any more heart palpitations or nervousness like I used to.
Lindenhurst, NY (PRWEB) March 29, 2013
Reishi Mushroom, also known as Ganoderma lucidum or Ling Zhi, has gained much popularity recently because of how many health benefits are being discovered from this miraculous mushroom. Most notably Reishi is known for its immune boosting properties. It provides the body with rich antioxidants and polysaccharides which combat bacteria and viruses, potentially warding off a variety of aliments.
In recent studies Reishi Mushroom has shown to improve cardiovascular health by stimulating blood circulation, lowering blood pressure and cholesterol, and relaxing the nerves, all of which lead to improved heart health. While Reishi Mushroom does wonders to protect the body's major organs including the heart and liver, it also helps relieve more minor everyday discomforts such as allergies, muscle aches, stress and anxiety.
For those suffering from chronic stress, anxiety, or insomnia, Reishi Mushroom can prove to be a safe solution. The calming effect that Reishi Mushroom can provide by replenishing energy spent from handling stressful situations will help the body feel relaxed. Reishi can relieve the mind from stress and anxiety allowing for improved memory, concentration and focus.
Because of Reishi Mushrooms hard texture and bitter flavor it is not used in cooking. Rather Reishi Mushroom is typically sold in tablet form. Natures Elements offers 1,000 mg of a 10:1 concentrated extract of Reishi Mushroom. In order to see proper results an extracted form is essential. Extracts can be 10, 20 or even 100 times the concentration of a powder. For example if a 500 mg tablet of Reishi Mushroom powder was compared to a to a 500 mg tablet of Reishi Mushroom 10:1 extract, results would show that it would take ten 500 mg tablets of the powder to equal one 500 mg tablet of 10:1 extract. The irony is that powders are often marked up very high, and while extracts cost vitamin companies much more it might not cost the consumer more.
Reishi Mushroom is a safe and effective product taken for increased health and longevity. A recap on some of the numerous health advantages Reishi Mushroom may provide include:

Reduces Stress & Anxiety
Improved Memory, Concentration & Focus
Promotes Sleep & Relaxation
Lower Blood Pressure & Cholesterol
Supports Liver & Heart Health
Immune System Support
Rheumatoid Arthritis
Allergies
Muscle Aches
Natures Elements is among the few companies around providing customers with superior products at a reasonable prices. They also offer the opportunity of Auto-Ship which allows customers to save an additional 20% on any product with automatic delivery.
More information on Reishi Mushroom can be found here: http://natureselements.net/REISHI_MUSHROOM.html