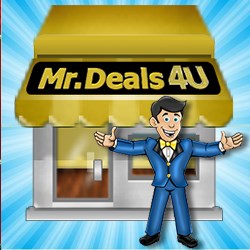 Merchant who are looking to sell daily deals for their products can now get real value when using Mr. Deals 4U.
Boca Raton, FL (PRWEB) March 29, 2013
Mr. Deals 4 U, a new daily deals site where merchants can post their own daily deals, is revolutionizing the digital deals space by offering great prices, direct consumer access, and an entertaining online game room to engage users. Merchants can now feel that they are the ones receiving a daily deal for their business, with Mr. Deals offering up to 90% revenue share for the products they sell.
"By offering products only, costs are predefined, minimizing variables that have plagued the daily deal industry when services are offered," said Phil Tomich, president of Mr. Deals 4 U.
Each day, Mr. Deals 4 U will feature no more than six national deals and all will be displayed on and accessible from the site's homepage. That means it's simple for consumers to find all participating vendors. It also means great exposure for merchants.
"In addition to sales where merchants are guaranteed up to 90 percent revenue share, this is a great way for businesses to create brand awareness for their company and products," Tomich said. "We have redesigned the daily deal model to allow online merchants to receive real value for offering daily deals with us. We provide full transparency between merchants and users, and encourage direct relationships created through our platform."
To get started, a business creates their own SEO optimized page, or 'Deal Store,' on the site where they can showcase products, provide information about their company and links to their website and social networks.
Vendors also receive free banner ads on their webpage and advertising space in the site's built-in online game room where players earn credits to use toward daily deals and merchants can sponsor online tournaments to receive premium advertising. Mr. Deals will promote the online gaming tournaments through custom PR releases for the sponsoring merchant.
"Our online game room was created to benefit both merchants and consumers," Tomich said. "Free Internet games are a continually increasing trend, and here, players earn credits to be used toward daily deals."
Merchants need to be quick to register though, Mr. Deals is only allowing their first 200 approved merchants and then will be closing registration until further notice.
Businesses interested in selling products on Mr. Deals 4 U may register as a merchant at https://www.mrdeals4u.com/merchants/signin or contact merchants(at)mrdeals4u(dot)com for more information.
About Mr. Deals 4 U:
Mr. Deals is an exciting new way to find great deals, play online video games and earn deal dollars to buy prizes and enter tournaments.
Our mission is to give merchants an opportunity to create brand awareness of their business and products. Mr. Deals offers a fun atmosphere by allowing customers to play games and earn Deal Dollars to use on Mr.Deals4U.com.
Mr. Deals allows merchants a place to offer great deals to online gamers. Every day there are six deals offered by a variety of merchants with an assortment of deals. Join our Ultimate Video Game Room to earn Deal Dollars that will let you enter into tournament to win prizes.