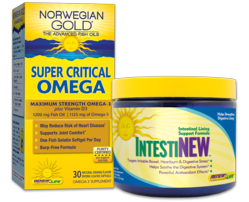 Norwegian Gold Super Critical Omega was named in the Omega-3 category and IntestiNEW received top honors in the Digestive Health category
Clearwater, FL (PRWEB) March 29, 2013
Notable Supplement Resource
Delicious Living magazine has been a trusted health and wellness resource for more than 25 years. These awards focus on innovative, research-backed supplements now available to researchers and consumers. Delicious Living magazine's annual supplement awards highlight standout products and ingredients for safety, purity and efficacy.
"These 93 picks are among the standout brands giving Americans effective, safe tools to proactively take charge of their health and well-being," said Susan Enfield, longtime Delicious Living contributor and health writer.
The winning lineup includes exemplary dietary supplements and companies across key categories, including heart health, cleanse and detox, weight loss, sleep, stress relief, immunity and brain health.
Norwegian Gold Super Critical Omega Honored for Omega-3 Excellence
Norwegian Gold Super Critical Omega is a maximum-strength Omega-3 fish oil supplement containing 1,125 mg of pure Omega-3 per softgel. It is enhanced with 1,000 IU of vitamin D3, and it is enteric coated for no fishy aftertaste and enhanced with lipase, a natural enzyme that aids in the digestion of the oils. The fish gelatin softgels come in Fresh-Assure glass bottles to protect them from damaging light and moisture.
Norwegian Gold Super Critical Omega:

Is recommended to individuals looking for the highest possible concentration of Omega-3 per softgel
May reduce the risk of heart disease
Supports heart, brain and joint health
Burp-free enteric coating
The Norwegian Gold Difference
Norwegian Gold Advanced Fish Oils are guaranteed the highest five-star purity. "Norwegian Gold Ultimate Fish Oils have superior quality and purity. The oils are subjected to rigorous standards to exceed world standards for purity and freshness. Every batch of Norwegian Gold Fish Oils is five-star certified by IFOS (International Fish Oil Standards)," stated Brenda Watson, PBS and national health educator, and President and Founder of ReNew Life.
IntestiNEW Receives Top Honors in Best Digestive Health Category
IntestiNEW supports the healthy function of the intestinal lining, with L-glutamine and NAG (N-acetyl D-glucosamine) plus herbs to soothe and support healing in the digestive tract. IntestiNEW is available in a powder or capsule.
IntestiNEW is a soothing intestinal lining support formula:
In powder form, it contains 5 grams of L-glutamine with gamma oryzanol and soothing herbs
It is recommended for occasional irritable bowel and digestive stress
It is formulated to help strengthen, support and soothe the intestinal lining
Potent, natural antioxidant effects
"InstestiNEW has been a standard ReNew Life supplement for many years. The consistent demand for this popular gut solution suggests it has been answering the needs of many consumers for quite a long time," stated Watson. "A healthy intestinal lining is vital to overall health."
About Renew Life
ReNew Life Formulas was founded in 1997 by Brenda and Stan Watson and offers a full spectrum of award-winning digestive care supplements and functional foods. Each ReNew Life product is made from only the finest raw ingredients. The company's analysis, educational materials, customer service and superior manufacturing practices all set the benchmark for others in the industry. Above all, ReNew Life is dedicated to helping their customers achieve and maintain optimal health, increase energy and enhance mental clarity.
For additional information on Norwegian Gold Super Critical Omega and IntestiNEW, please contact bcooper(at)renewlife(dot)com.