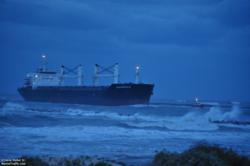 "The vessel is adrift, the tiller and steering gears are in complete failure and the crew is trying to start the engine." - French rescue personnel
New York, New York (PRWEB) March 29, 2013
French and U.S. rescue authorities were alerted to a distress of a 109 foot catamaran 500 miles southeast of Bermuda on Wednesday, March 27, 2013. The crew of the catamaran Mouse Trap activated their Emergency Position Indicating Radio Beacon (EPIRB) after their mast fell killing a crew member.
Rescue authorities in Griz Nes, France received the initial distress call and notified U.S. Coast Guard rescue personnel in Portsmouth, Va. "The vessel is adrift, the tiller and steering gears are in complete failure and the crew is trying to start the engine," French rescue personnel reported.
The Coast Guard immediately sent a HC-130 rescue aircraft and used the Amver system to divert the 623 foot bulk carrier Alexandros III. The Marshall Island flagged ship was approximately 100 miles from the distress location.
Amver, sponsored by the United States Coast Guard, is a unique, computer-based, and
voluntary global ship reporting system used worldwide by search and rescue authorities
to arrange for assistance to persons in distress at sea.
Two hours after the Coast Guard began managing the rescue effort they received word from the International Emergency Rescue Coordination Center reporting the crew of the Mouse Trap was no longer in distress. The aircraft and Amver ship were released from the search.
The crew of the Mouse Trap is maintaining a communications schedule with French rescue authorities until they arrive in St. Martin.
The Alexandros III, managed by Gourdomichalis Maritime of Piraeus, Greece, enrolled in the Amver system on February 8, 2012.
With Amver, rescue coordinators can identify participating ships in the area of distress and divert the best sited ship or ships to respond. Vessels send periodic position reports to the Amver center until arriving at their port of call. This data is able to project the position of each ship at any point during its voyage. In an emergency, any rescue coordination center can request this data to determine the relative position of any Amver ship near the distress location. Every day there are over 5,000 ships available for search and rescue. Visit http://www.amver.com to learn more about this unique worldwide search and rescue system.