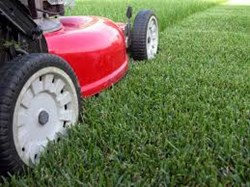 Home ownership doesn't come with a manual on maintenance.
(PRWEB) March 28, 2013
According to Reuters, new home sales show steady gains in home pricing over the last two months, suggesting the recovery of the housing market continues to be on the rise. With new home sales come new homeowners, often ill-informed on the proper maintenance and needs of their home landscape.
"New homeowners are deservedly excited about their new residence, but unfortunately, home ownership doesn't come with a manual on maintenance," states Ron Madera, president of The Grounds Guys®. "Landscape upkeep is often something people believe they inherently know how to do, but become confused when their lawn is below par."
To aid in the transition from home dweller to homeowner, The Grounds Guys has compiled the top five overlooked tips for grooming an immaculate landscape.
1. The mower blade should be sharpened every 8-10 mowings and set to a height that will cut no lower than the top third of the grass blades, typically 2"-3" depending on the variety of grass you have. A dull mower blade will tear the grass rather than cut it and cutting the grass too short can cause disease, aid in weed growth and foster a breeding ground for insects.
2. Water slowly and deeply, not often and quickly. When the lawn is watered too often with little water, it trains the roots to stay near the surface, making them more susceptible to heat related follies. The best way to water your lawn is to imitate a rain shower, using soaker hoses or trickle irrigation, to achieve a deep saturaton. Water in the early morning, about once a week.
3. Before watering, check your lawn to test the soil dampness. Take a screwdriver and press it into your lawn. If it goes in easily, your soil is probably still moist. If the screwdriver is difficult to push through, it's time to water.
4. Thatch, the layer of dead plant material that accumulates just above the soil, can become too thick, preventing water and nutrients from permeating the soil below. Break up the thatch build-up by raking your lawn by using a special dethatching rake, using a machine to cut through the thatch or sprinkling a thin layer of topsoil over the entire lawn. Dethatching can take time and specialized equipment. If you are unsure of how to properly dethatch, consider calling a landscape specialist, like your local The Grounds Guys.
5. Develop a pest management program to ensure proper lawn maintenance. An Integrated Pest Management (IPM) system utilizes organic, chemical and cultural tactics to achieve optimal results with the least environmental impact. Talk to a local landscape management professional to create an IPM that will control infestations and help the lawn maintain its beauty.
About the Grounds Guys:
The Grounds Guys® is a new franchise concept specializing in commercial and estate residential landscape management services. It is the seventh service concept of The Dwyer Group, an international franchise company with more than 1,400 locations globally. For more information, please visit our website at http://www.groundsguys.com, follow The Grounds Guys on Twitter (@GroundsGuysUS), like The Grounds Guys on Facebook (Facebook.com/GroundsGuys) or add us to your circle on Google+ (gplus.to/TheGroundsGuysUS).