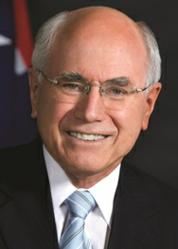 Alexandria, Va. (PRWEB) March 28, 2013
The Honorable John Winston Howard, 25th prime minister of Australia (1996 – 2007), will provide the keynote address at the ASIS International 59th Annual Seminar and Exhibits (ASIS 2013) on Thursday, September, 26, 2013 at Chicago's McCormick Place. Recognized as the security industry's most comprehensive education and networking event, ASIS 2013 is anticipated to draw more than 20,000 security professionals from around the world for education, networking, and an expansive exhibit floor of security products and services.
Get a view of the world from "Down Under" from Australia's second longest serving prime minister. During his 16-year tenure, Howard turned around the federal government budget from heavy deficit to free of net debt when he left office. He also initiated major reforms in taxation, labor laws, and social policy. Under Howard's government, Australia was both a strong and close ally of the United States as well as expanding links with Asian nations. With Howard's leadership, Australian forces joined the coalition of the willing in Iraq in March 2003. Australia strongly supported the war against terrorism with her forces continuing to serve alongside American and other coalition forces in Afghanistan. See full bio (PDF). The keynote address is open to all attendees.
Mike Ditka, NFL legend, team builder, and motivator will speak at the closing ASIS 2013 luncheon on Friday, Sept. 27. Ditka will highlight key characteristics people need to achieve their personal and professional goals. See full bio (PDF). This is a ticketed event.
(ISC)2, the largest not-for-profit membership body of certified information security professionals worldwide, will colocate its third annual Security Congress with ASIS 2013. More than 200 educational sessions will be presented at ASIS 2013, including expanded IT security offerings in collaboration with (ISC)2. The ASIS exhibits will feature more than 230,000 net square feet of the latest security technology and innovations in traditional and logical security, providing a showcase for more than 700 companies demonstrating cutting-edge solutions.
Registrants of either ASIS 2013 and (ISC)2 Security Congress may gain access to each event's education sessions and the exhibit hall. Both organizations also will offer review courses for their respective certifications, as well as separate, members-only activities.
Visit http://www.asis2013.org for complete event details, including registration, housing, and sponsorships.
About ASIS International
ASIS International is the leading organization for security professionals, with more than 38,000 members worldwide. Founded in 1955, ASIS is dedicated to increasing the effectiveness and productivity of security professionals by developing educational programs and materials that address broad security interests, such as the ASIS Annual Seminar and Exhibits, as well as specific security topics. ASIS also advocates the role and value of the security management profession to business, the media, government entities and the public. By providing members and the security community with access to a full range of programs and services, and by publishing the industry's No. 1 magazine—Security Management—ASIS leads the way for advanced and improved security performance.