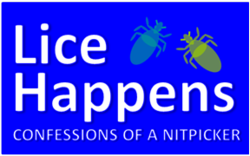 "We're using the blog as a vehicle to increase awareness...
(PRWEB) March 29, 2013
The owners of Lice Happens have an unusual story to tell. "They wanted to bring their company name and tagline to life in a way that differentiates the brand, so they decided to launch a blog that tells stories about life, not just about lice," says Amy Steindler, a personal and business coach to entrepreneurs.
Lice Happens co-founder Nancy Fields explained, "We're using the blog as a vehicle to increase awareness of the "life happens" inference in our brand name. We see ourselves as life coaches as well as lice coaches—we've always been focused on making people's lives better." A recent blog post entitled, "The Lice Coach is IN" addresses that aspect of the business.
Lice Happens Confessions of a Nitpicker blog will tell the stories of situations their Treatment Specialists encounter every day, using them to support their ongoing campaign against the shame and blame and angst that often accompany a case of head lice.
"We recognize that a sense of humor, appropriately used, can defuse a tough situation and teach people a better way to live, so we're using gentle humor, along with the factual information, to coach readers through the difficult moments we've seen families encounter," says M.J. Eckert, a registered nurse and co-founder of Lice Happens. "We can tell them that head lice have been around since before King Tut ruled Egypt, but it doesn't ease the shame as much as knowing that other parents are dealing with the same thing."
Social media marketing expert, Emily Downward, applauds this blogging angle. "When you go beyond selling a service, and make the effort to shift people's thinking from suffering to happiness, and from shame to empowerment, you've made a difference in the world. Readers gain perspective that has relevance in all areas of their lives."
New posts to "Confessions of a Nitpicker" will be published monthly on Lice Happens' website, http://www.licehappens.com.
About Lice Happens
Lice Happens is a nationwide mobile lice treatment service based in Annapolis, Maryland. Co-founded by Mary Jane Eckert, a registered nurse, and Nancy Fields, a quality assurance professional, the company has recently begun to offer franchise opportunities to qualified entrepreneurs.