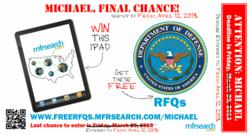 "MFR Search would like all Ohio manufacturers to be registered for this free Department of Defense RFQ locator and just by registering someone will win an Apple iPad."
Cincinnati, OH (PRWEB) March 29, 2013
Research shows that many Department of Defense (DoD) requests for proposals go unanswered, uncontested and non-Ohio. MFR Search located in Cincinnati, Ohio along with their corporate partner TechSolve work with Ohio manufacturing and machine companies to create a portal that matches Department of Defense proposal requests with qualified Ohio businesses. This offers the opportunity to have more Ohio industries fulfilling Department of Defense projects, increase Ohio manufacturing numbers and ultimately create Ohio jobs. MFR Search has initiated a sweepstakes to encourage more Ohio industries to register for Department of Defense proposals and in turn be registered to win an Apple iPad.
The U.S. Government is the largest "company" in the world. Each year, the Department of Defense and the federal government sign over 11 million business contracts. The majority of the $55 billion in defense contracts receive only one bidder to their posted requests for quote (RFQ). Less than 5% of the businesses in the United States currently do business with the U.S. Government. Less than 1% of those businesses are Ohio based. Any business can qualify for these often non-contested proposals, in fact nearly 95% of all federal contracts are awarded to small- and medium-sized business vendors.
In an effort to encourage more Ohio manufacturing companies to register for this free Department of Defense request for quote locator; MFR Search is offering a free Apple iPad sweepstakes giveaway for one lucky individual that registers their company. There is no obligation, just register and be entered to win an Apple iPad. Over ten thousand Ohio manufacturing representatives will receive personal invitations to take advantage of this free service. Once registered, the company they represent will instantly begin receiving free Department of Defense requests for proposals that fit their company's capabilities. Proposal preferences and performance profiles can be built in more detail for filtered, targeted responses with the help of an MFR Search representative. Assistance is also offered in proposal preparation and presentation. Free registration, with a chance to win the Apple iPad, is open through Friday, April 12, 2013 at http://www.freeRFQs.MFRSearch.com.
"MFR Search would like all of our Ohio manufacturing and machine companies to be registered for this free service. For every manufacturing need, Ohio has an ideal supplier that can fulfill that need and just by registering someone will win an Apple iPad," said Doreen Stanley, Marketing Manager for MRF Search and TechSolve.
This program is supported by the US Government in an effort to improve response rates for current and future Department of Defense requests for proposal. The plan is to provide multiple, competitive proposals for comparison of cost, quality and deliver-ability. This program is an effort to increase Ohio business contracts and to establish better relationships between Ohio manufacturers and the US Department of Defense.
###
About MFR Search (http://www.freeRFQs.MFRSearch.com)
MFRSearch.com is an online communication portal between buyers and sellers of manufactured parts and machining services. It is a secure interactive website that connects manufacturing businesses to each other. Its robust database of Ohio's manufacturers and suppliers allows it to be Ohio's preeminent online procurement/sourcing resource. MFRSearch.com allows organizations to create, schedule, and track requests for quotations (RFQs). Manufacturing suppliers set RFQ filters and create company profiles that alert prospective buyers of the supplier's expertise and capabilities. If you would like more information about MFR Search and the Department of Defense request for proposal program contact Doreen Stanley: (513) 948-2000 or Stanley(at)TechSolve(dot)org.