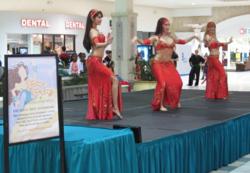 Miami, Florida (PRWEB) March 28, 2013
Every Friday, Cutler Bay residents are invited to enjoy an evening of special performances with their family and friends at Southland Mall from 6:00 - 8:00 p.m. Southland Mall has partnered with local schools to celebrate diversity, culture and the arts inside the mall's Center Court.
Below is a list of events for the month of April:
•April 5th - Richmond Heights Middle School will present an art exhibition featuring original pieces created by their students. They are also showcasing a variety of animals from Zoo Miami in an effort to share information about their Zoology Magnet Program.
•April 12th - Palm Glades Preparatory Academy will feature a performance by their step group, cheer squad, flagettes and hip hop dancers.
•April 19th - Arthur & Polly Mays Conservatory of the Arts will present a special performance by their orchestra and jazz band.
•April 26th - Dancers from "Belly Dancing by Shayna" will provide dance lessons and the National Karate's "Team Shendo" will present a live tutorial of martial arts moves.
"Festive Fridays" are free events that are open to the public. Southland Mall is conveniently located on U.S. 1 and S.W. 205th Street, off the Florida Turnpike, Exits 11 or 12. For more information on Southland Mall or to learn about partnership opportunities for upcoming "Festive Fridays," email inquiries to info(at)thinkpeacock(dot)com.
About Southland Mall
Southland Mall, located in South Miami-Dade County, Florida, the densest, most populous county in the southeastern portion of the state of Florida, has over 1 million square feet of gross leasable area. Southland Mall is conveniently located on U.S. 1 and SW 205th Street, off the Florida Turnpike, Exits 11 or 12, and is the only enclosed regional mall servicing South Miami-Dade County down to the Florida Keys. Southland houses over 100 specialty stores, including Macy's, Sears, JC Penney, TJ Maxx, Old Navy, Starbucks, a 16-Plex Regal Cinema and diverse Food Court. For more information about Southland Mall, visit mysouthlandmall.com on your mobile device, follow us on Twitter @solandmall, 'Like' us on Facebook at southlandmallmiami, or call (305) 235-8880.
About Gumberg Asset Management Corp.
Gumberg Asset Management Corp., a diversified real estate retail organization with a tradition of uncompromising integrity and unbeatable performance is the manager of Southland Mall. For further information, visit the Company's website at http://www.gumberg.com.