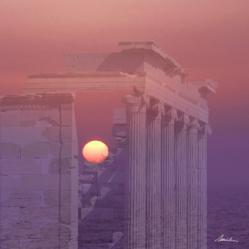 Being invited to such an exclusive event is a great validation for any photographer and speaks to the quality of Nina's work.
(PRWEB) March 28, 2013
PrintedArt today announced that Nina Dunn will be exhibiting at the Shakespeare Theatre Company in Washington, DC. Ms. Dunn has joined the PrintedArt Collection recently and her PrintedArt portfolio currently shows seven of the images that are on display at the Shakespeare Theatre.
"This is a great validation of the artwork exhibited at PrintedArt", says Klaus Sonnenleiter, president and CEO of PrintedArt. "Being invited to such an exclusive event is a great honor for any photographer and it speaks for the quality of Nina's work."
Ms. Dunn is showing her artwork produced in PrintedArt's signature float-on-the-wall display format using archival prints made with pigment inks and face-mounted behind an optically clear acrylic panel. Artwork sold during the event will benefit the artistic and education process at the Shakespeare Theatre Company.
The show will be held from March 28 to June 2, 2013 at Sydney Harman Hall located at 610 F Street NW.
About Nina Dunn
Nina Dunn began photographing at the age of five using a Brownie box camera and concentrating on family members, frequently with their heads cut off. Since then, Nina has upgraded her equipment and broadened her focus to a wide range of subjects, including urban and wilderness landscapes, wildlife and people. Her photography has been published and exhibited, and Nina has taught both photographic and Photoshop techniques.
Dunn has practiced her photography alongside her practice of law. With more than 25 years of experience in international trade and investment, securities law and national security matters, she advises corporations on business, compliance and regulatory issues.
For additional information on the photographer and her work, visit parkwoodphoto.com.
About PrintedArt
PrintedArt is a web-based fine art photography collection, hand-selected by our experienced staff of curators who have created a highly selective gallery for the home decor and hospitality markets.
Every image in the collection is produced in a modern gallery-grade display format with acrylic finish, as a gallery-wrap canvas panel or as a wall mural.
The PrintedArt Photolab allows customers to print their own images in the same professional quality as our fine art collection.
For more information, contact PrintedArt at info(at)printedart(dot)com or at +1 201 301 9113.