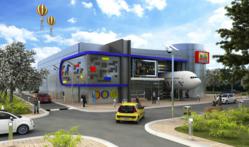 "With its franchise model, KidzMondo is sure to quickly expand beyond the Middle East, which makes a Cloud-based ERP and CRM platform an absolute necessity."
Beirut, Lebanon (PRWEB) March 28, 2013
KidzMondo, the revolutionary edutainment city for kids that is soon to open in Beirut has chosen Xenatus Global and SaaSplaza to provide a complete business solution—built on Microsoft Dynamics NAV, CRM and Dynavics POS —for all of its IT requirements.
KidzMondo is a pioneering, unique project where children take the lead in exploring their very own potential to the fullest. All this takes part in a fully functioning city, with over 80 professional career paths, all designed to stimulate and engage minds of all ages. This eye-opening world is developed on a plot of 5,000 Sqm and represents 10,300 Sqm of build-up area, an establishment that can handle over 400,000 visitors per year.
Not only will Xenatus Global and SaaSplaza's solutions empower KidzMondo by speeding and unifying business processes across its enterprise, but they will also enable easy scaling across multiple franchises. More importantly, this will allow KidzMondo to focus on its central mission: bringing a seamless blend of entertainment and education to open up a child's mind to a world of creativity and enjoyment.
"We required a partner and solution that would free us to concentrate on building and creating our unique city, rather than worrying about the IT that supports the business. With its diverse technology expertise in the retail space and proven relationships in the region, Xenatus Global was the ideal provider for our needs," said KidzMondo's Chairman, Ali Kazma. "Xenatus delivered on all counts—and developed our website as well."
Fouad Chaarani, Managing Partner of Xenatus Global, also expressed his enthusiasm for this groundbreaking idea: "KidzMondo is sure to be an immediate hit in the region. And with its franchise model, it is sure to quickly expand beyond the Middle East, which makes a Cloud-based ERP and CRM platform an absolute necessity."
"KidzMondo was a natural fit for the Cloud," agreed SaaSplaza CEO, Herb Prooy. "Because of its needs for a flexible and scalable solution while avoiding hardware and staffing costs, KidzMondo will benefit from this technology to the fullest. We've deployed hundreds of similar Cloud solutions for clients around the world, and we're confident that, with this technology, KidzMondo will take the world by storm."
KidzMondo will open its flagship location in Beirut soon. For more information, visit http://www.kidzmondo.com, the KidzMondo Facebook page, or call +961-1-766-976.
About Xenatus Global
Xenatus Global enables clients to respond efficiently to market demands while identifying new business opportunities. Its primary mission is to help clients accomplish business objectives by leveraging appropriate technology. Xenatus' robust portfolio of clients since its inception ranges from Fortune 100 conglomerates to utility companies to start-ups spanning North America, Europe, the Middle East, and Asia. For more information, visit http://www.xenatusglobal.com.
About SaaSplaza
SaaSplaza is #1 worldwide in Cloud Dynamics, with 15 years of experience, and data centers and staff in Asia, EMEA, and the US, and hundreds of Partners and deployments in nearly 60 countries. NAV, AX, GP, CRM, and ISV solutions run easily and consistently on SaaSplaza's infrastructure, built entirely on the Microsoft stack. Visit http://www.saasplaza.com.