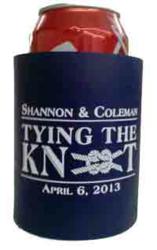 Customers seem to like lower prices.
Raleigh, NC (PRWEB) March 29, 2013
Drink Out Loud, a leader in the print and distribution of KOOZIE® can cooler industry, announces their company's decision to lower prices on some of their more popular items. The lowered prices are for their three most popular items: Foam Can Holders, Collapsible Can Holders and Neoprene Can Holders.
Drink Out Loud has put new procedures, processes and suppliers in place in their goal to give the customer the best product for the money.
Drink Out Loud is one of the foremost internet providers of insulated beverage containers. These are used for a number of different occasions. Can coolers are used as party favors and are particularly popular for weddings, birthday parties, class and family reunions and are used quite often by businesses as a give away item.
"Our customers have always been satisfied with the prices we have offered. We have figured out how to lower them, and want to pass that savings on to our customers," says Bob Liddle of Drink Out Loud.
Drink Out Loud provides 20 different styles to choose from. The two main categories are collapsible and foam. Collapsible can coolers are foldable and are primarily used for mailings, or easy transport. Foam can coolers are the best insulators and are sturdy and stackable. Drink Out Loud also offers related items such as wine wraps, stadium cups and solo cup wraps.
Drink Out Loud provides 100's of free great designs for parties and events. Some of their most popular are "to have and to hold and to keep your drink cold" and "a wedding without any buzz is a wedding that never was". Customers are also able to upload their own graphics and they can create their own designs.
Whether it is the economy, Social Media, Facebook, Twitter, a new cart, new products or great service, Drink Out Loud is happy to be forging ahead in this economy.
###
Drink Out Loud was founded in 1999 in the spare bedroom of the owners house. Drink Out Loud now prints can coolers in a 5000 square foot building, servicing over 6,000 customers annually. Drink Out Loud can be found at http://www.drinkoutloud.com or email us at nancy(at)drinkoutloud(dot)com. Find us on Facebook.