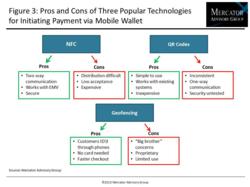 The mobile wallet market is a new frontier, especially in the payments industry, which has seen little change in technology or functionality for decades.
Boston, MA (PRWEB) March 30, 2013
The physical wallet might someday go the way of the checkbook, used by few and no longer a necessity. Growing consumer use of smartphones is creating a market for mobile wallets capable of serving many of the same purposes physical wallets served for centuries but now are able to take advantage of a plethora of new functions made possible in an increasingly digital marketplace.
For financial institutions, mobile wallets represent an opportunity to add more utility to their mobile banking apps, and the bankcard networks are making it easier for banks and credit unions to do so while also enabling them to maintain brand recognition.
A picture is beginning to emerge that suggests how mobile wallets will take hold. Instead of taking a $10 bill out of a wallet for a purchase at the point of sale, a consumer today might simply use a smartphone and tap a terminal or scan a bar code to achieve the same result. And rather than the clerk handing the customer coupons, perhaps on the back of the receipt, the phone might automatically receive both pieces of information from the terminal (to store for later use or to help manage the household budget).
Mercator Advisory Group's new report, Mobile Wallets: The U.S. Landscape, reviews U.S. mobile payment trends, analyzes the wallets by function and sorts them into a taxonomy of the major players, their wallets and the most common uses.
"The mobile wallet market is a new frontier, especially in the payments industry, which has seen little change in technology or functionality for decades," says Jeffrey Green, director of Mercator Advisory Group's Emerging Technologies Advisory Service and author of the report. "This represents both a threat and an opportunity for players that have been in payments for some time. And knowing who these wallet vendors are and what they're offering is becoming important in determining how to respond to the marketplace changes."
Highlights of the report include:

Analysis of the U.S. mobile-wallet market and categorization of products into three basic wallet categories
Characteristics of the common point-of-sale technologies, how merchants access wallet credentials and the way wallet transactions are settled
Examination of wallets using different technologies to support payments at the point of sale, online and for person-to-person funds transfers
Comparison of storage and management wallets as well as mobile banking and payments platforms Discussion of mobile banking platforms and the role they will play in mobile payments.
This report is 27 pages long with 13 exhibits.
Companies mentioned in the report include: ACI Worldwide, Amazon Inc., American Express Co., Apple Inc., Apriva LLC, AT&T, Atos Worldline, Attido Mobile Ltd., ATX Innovations, Bango Inc., Barclaycard, BarTab Inc., Belly Inc., Best Buy/BBY Solutions Inc., Blackhawk Network, Boku Inc., Braintree Payment Solutions LLC, Burger King Corp., CashStar Inc., CellFire Inc., Certify LLC, Clutch Holdings LLC, Coop Financial Services, Corefire/SK C&C USA Inc., Cumberland Farms, DeviceFidelity Inc., Discover Financial Services, Dunkin Donuts, Dwolla Inc., eBay Inc., Fandango, Fifth Third Bancorp, Firethorn Mobile Inc., Fiserv Inc., Fortumo Ltd., FreedomPay, Giftango Corp., Google Inc., Green Dot Corp., GrubHub Inc., Hailo Network Ltd., iCache Inc., Intuit Inc., Ingenico, Isis/JVL Ventures LLC, Kinetic Farm Inc., Lake Trust Credit Union, Lemon Inc., LevelUp/SCVNGER, Live Nation Worldwide Inc., MasterCard Inc., mFino Inc., mFoundry/FIS, MCX, Microsoft Corp., Monitise PLC, mopay Inc./MindMatics AG, Mozido Inc., mShift Inc., National Payment Card Association, NCR Corp., Oberthur Technologies, Parkmobile USA Inc., Pango Shyyny USA LLC, Paperlinks Inc., Payair US LLC, PayByPhone Inc., Paycloud Ltd., Paydiant Inc., Paydragon, PayOne, PayPal Inc., PreCash Inc., Proxama Ltd., PXT Payments, QuickPay Corp., Research In Motion Ltd., RideCell Inc., RideCharge Inc., SafetyPay Inc., Salt Technology Inc., Samsung, Sears Holdings Management Corp., Shazam Inc., ShopKick Inc., ShopSavvy Inc., Sionic Mobile, Spindle Inc., Sprint, Square Inc., Starbucks Inc., Target Corp., Text2Pay Inc., TMG Financial Services, T-Mobile, Tyfone Inc., Verizon, Uber Technologies Inc., VeriFone Systems Inc. and Visa Inc.
Members of Mercator Advisory Group's Emerging Technology Advisory Service have access to this report as well as the upcoming research for the year ahead, presentations, analyst access and other membership benefits.
Please visit us online at http://www.mercatoradvisorygroup.com.
For more information and media inquiries, please call Mercator Advisory Group's main line: (781) 419-1700, send E-mail to info(at)mercatoradvisorygroup(dot)com.
For free industry news, opinions, research, company information and more visit us at http://www.PaymentsJournal.com.
Follow us on Twitter @ http://twitter.com/MercatorAdvisor.
About Mercator Advisory Group:
Mercator Advisory Group is the leading, independent research and advisory services firm exclusively focused on the payments and banking industries. We deliver pragmatic and timely research and advice designed to help our clients uncover the most lucrative opportunities to maximize revenue growth and contain costs. Our clients range from the world's largest payment issuers, acquirers, processors, merchants and associations to leading technology providers and investors. Mercator Advisory Group is also the publisher of the online payments and banking news and information portal PaymentsJournal.com.