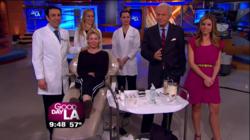 Los Angeles, California (PRWEB) March 28, 2013
As reported on March 4, 2013 in the journal Clinical Psychological Science, a recent study conducted provides new insight into the effects that plastic surgery has beyond changes to the patient's physical appearance. The study showed that those who chose to undergo plastic surgery saw improvements in mental and physical health, quality of life, and self-esteem. (Go to: goo.gl/1MFDg).
"The goal of the study was to comprehensively investigate the psychological outcomes of plastic surgery with follow-up at 3, 6 and 12 month intervals," says Dr. Ourian, Medical Director of Epione Beverly Hills. "I think medium-term studies like this provide valuable insight into the true post-procedure impact of plastic surgery."
Though the study reviews many examples of post-surgical increases in overall quality of life and life satisfaction, there are cautions. The authors emphasize that certain issues and psychological concerns should be addressed prior to any significant cosmetic work being done. Having unrealistic expectations for the outcome of the procedure or being motivated to undergo surgery by a specific personal relationship are indicators of future dissatisfaction with surgical results. Those who exhibit a history of anxiety, depression, personality disorders, and body dysmorphic disorders should discuss these issues with a physician prior to undergoing any procedure.
An interesting aspect of this particular study's methodology was the use of a control group that did not have elective surgery. The feedback from this group, when compared with those who had plastic surgery, indicated they had lower life satisfaction and lower self-esteem.
"I believe studies like this really validate the work aesthetic practitioners do," concludes Dr. Ourian. "I'm not at all surprised that plastic surgery is reported to positively impact one's mental state, to me it's self-evident."
Dr. Ourian has been a pioneer in laser technology and non-invasive aesthetic procedures including Restylane, Juvéderm, Radiesse and Sculptra. These treatments are used for the correction or reversal of a variety of conditions such as acne, acne scars, skin discoloration, wrinkles, stretch marks, varicose veins, cellulite, and others. More information about the positive effects of plastic surgery can be found on Epione's website.