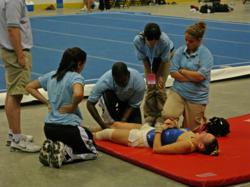 NYS recognizes the skilled efforts of athletic trainers as they endeavor to care for and manage health concerns of athletes and physically active people.
Buffalo, NY (PRWEB) March 29, 2013
March is formally recognized as National Athletic Training Month (NATM) and, thanks to a NYS Senator, March 2013 is also officially established as Athletic Training Month in the State of New York. The Proclamation, signed by NYS Senator Mark Grisanti (60th District, Buffalo, NY) on March 4, 2013, also recognizes the important services provided by athletic trainers (ATs) to New York's citizens. The Proclamation states, "New York State recognizes the skilled efforts of these professionals as they endeavor to care for and manage health concerns of athletes and physically active people."
The theme for NATM 2013 is 'Every Body Needs an Athletic Trainer' and the NYS Proclamation supports this ideal. The official document continues, "Athletic trainers strive to provide excellence in health care for those participating in athletic activity. With pride and dedication, ATs [also] work to educate the community on methods and techniques used to decrease the risk of injuries and illnesses occurring to athletes and other physically active people."
Athletic training (AT), a health care profession recognized by the American Medical Association (AMA) since 1991, encompasses the prevention, evaluation and assessment, rehabilitation, and intervention of emergency, acute, and chronic medical conditions involving impairment, functional limitations, and disabilities. Athletic training is practiced by nationally and state credentialed athletic trainers, who are health care professionals. ATs collaborate with physicians to optimize activity and participation of patients and clients.
Those who want to become certified athletic trainers must earn a minimum of a bachelor's degree from a CAATE-accredited Athletic Training Educational Program (ATEP) at an accredited college or university, pass a national certification exam through the Board of Certification (BOC), and obtain proper state credentialing. More than 70-percent of certified athletic trainers hold at least a master's degree. In addition, ATs must complete continuing education to maintain their BOC certification, which helps keep them up-to-date on the most current topics in athletic health and safety. "Athletic trainers remain on the front line of emerging research concerning health concerns such as concussions, heat illnesses and performance enhancing drugs," the Proclamation goes on to note.
The resolution also recognizes the New York State Athletic Trainers' Association (NYSATA) and its members for efforts to improve health care of the physically active in NYS through the advancement of the athletic training profession.
NYSATA launched its new public website this month and is holding a variety of other events throughout March in celebration of National Athletic Training Month. The ATEP Student Video Contest submissions can be viewed online and two additional contests are running on social media through the end of the month. The NYS Public High School Athletic Association (NYSPHSAA) has partnered with us to help thank athletic trainers during NATM with an official statement on their homepage.
NYSATA has also teamed up with the Brain Injury Association of NYS (BIANYS) to jointly promote NATM and Brain Injury Awareness Month, both in March. Along these lines, NYSATA has been promoting Ray Ciancaglini, a former boxer who has become an advocate and public speaker about sport concussion and second impact syndrome based on his personal experience. For more information on these events, visit NYSATA's NATM webpage.
NYSATA, founded in 1976 and incorporated in 1989, stands to advance, encourage and improve the profession of athletic training (AT) by developing the common interests of its membership for the purpose of enhancing the quality of healthcare for the physically active in New York State. Comprised of over 1,200 certified and practicing athletic trainers, NYSATA is the state-wide affiliate of the regional Eastern Athletic Trainers' Association (EATA) and District Two of the National Athletic Trainers' Association (NATA). Visit the new NYSATA website: gonysata2.org and follow us on Facebook: NYSATA and Twitter: @GO_NYSATA.