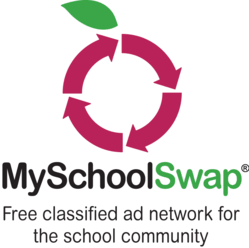 A simple ad to sell a household item, list a home for sale or promote a professional service can now also benefit any school in the United States.
Gainesville, VA (PRWEB) March 29, 2013
MySchoolSwap.com—a free classified advertising network for schools and the communities that surround them—recently restructured its business model and is now marketing itself as a meaningful alternative to Craigslist. The original model charged $1 dollar for ad listings and 50 percent was donated to schools. Now, that fee has been removed from basic ad listings and only sponsored ads require a fee in which the same portion is donated.
By donating 50 percent of all sponsored ads to schools nationwide, MySchoolSwap maintains its philanthropic business model making it a classified ad web site that gives back. Other features that set MySchoolSwap apart from classified ad web sites like Craigslist are school communities, user-appropriate content and required membership.
Classified ads on MySchoolSwap reach a national audience through location, category and keyword searches but MySchoolSwap also creates school communities through School Pages. A School Page is a "wall" of ad listings posted by folks connected to that school in some way—parents, alumni, school staff and the local business community.
A School Page creates a familiar environment for exchanges and communication as well as a targeted audience for sponsors. Small businesses like dance schools, tutors and orthodontists are always looking for inexpensive ways to reach parents of school age children. Sponsors buy their own Spirit Sponsor Ads through a simple and secure process. The ad offers greater visibility with sponsor recognition and a direct URL link. However, a Spirit Sponsor Ad is not limited to businesses, it's a practical way for anyone to support local schools.
MySchoolSwap has also created a friendly and secure space for its anticipated audience. It includes categories like School Notices, Fundraisers and Prom Gowns while excluding categories like Personals and Discussion Forums. Furthermore, membership is required and users must be 18 years of age or older to join.
A simple ad to sell a household item, list a home for sale or promote a professional service can now also benefit any preschool through high school in the United States. New members choose a School Page when they join MySchoolSwap. If a school is not in the database, it can be added. Any school or organization dedicated to the enrichment of children is eligible to have a School Page and once approved it can receive funds through sponsored advertising.
For more information visit MySchoolSwap.com. To connect with My School Swap, LLC call 703-754-8410 or visit http://www.myschoolswap.com.
About MySchoolSwap.com
MySchoolSwap® is a free classified advertising network that sets itself apart from typical classified advertising web sites by donating a percentage of sponsored ad revenue to schools and by providing a national network for the school community. It officially launched in April of 2012 and within the first five months of operation, the company sent payments to ten schools in three states. MySchoolSwap has an expandable database of 134,000 preschools, elementary and secondary schools across the United States to include public and private. My School Swap, LLC was founded by Cathy and Tim Shalvey of Gainesville, VA and is supported by an Advisory Board with expertise in areas of internet privacy law, search engine optimization, affinity marketing and education. More information about the leadership team can be found at http://myschoolswap.com/about/our-story.aspx
###
Contact Information:
Cathy Shalvey, President
703-754-8410
info(at)myschoolswap(dot)com