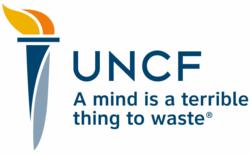 San Diego, Ca (PRWEB) March 28, 2013
UNCF (United Negro College Fund), the nation's largest and most effective minority education organization, brings San Diego civic, corporate, education and community leaders together today to attend the inaugural UNCF Mayor's Luncheon for Education. Hosted by San Diego Mayor Bob Filner, the event takes place from 12:00pm – 1:30pm at the San Diego Marriott Gaslamp Quarter Hotel, 660 K Street, San Diego 92101.
Forty percent of the net proceeds will fund the San Diego-UNCF Scholarship Program, which will help students from San Diego go to and through college. Eligible students must be San Diego County residents, have a cumulative GPA of 2.5 or higher, be enrolled full-time at a UNCF or other accredited four-year college or university in the nation and have a financial need.
"I am pleased to be in San Diego to talk to Mayor Filner and other San Diego leaders about what we need to do to help students here and across the country get the education they need and that we need them to have," said UNCF president and CEO, Michael L. Lomax, Ph.D. "By making today's UNCF Mayor's Luncheon for Education the success that it is, the mayor and everyone who turned out today are investing in better futures for San Diego students, and for the entire community."
"The students whose education will be supported by today's luncheon are our next generation of college-educated professionals and community leaders," said Margo Thomas, UNCF Area Director. "We are extremely grateful to Mayor Filner, to AT&T, the national sponsor of our governor's and mayor's luncheons, and to all the sponsors and table hosts for their investment in the work of UNCF and the students we serve. UNCF's service to the community helps deserving students from San Diego attend college and benefits the entire community, because a college-educated workforce is vital to the well being of our local and national economy."
To serve youth, the community and the nation, UNCF supports students' education and development through scholarships and other programs, strengthens its 38 member colleges and universities, and advocates for the importance of minority education and college readiness. Since its founding in 1944, UNCF has raised more than $3.6 billion in contributions and helped more than 400,000 students earn college degrees. UNCF administers more than 400 programs, including scholarship, internship and fellowship, mentoring, summer enrichment, and curriculum and faculty development programs. Today, UNCF supports more than 60,000 students at over 900 colleges and universities across the country. Its logo features the UNCF torch of leadership in education and its widely recognized motto, "A mind is a terrible thing to waste."® Learn more at http://www.UNCF.org
To support the San Diego Mayor's Luncheon for Education, send donations to the UNCF Southern California office at: UNCF, 3699 Wilshire Blvd, Suite 675 – Los Angeles, CA 90010 - Attention Margo Thomas Area Development Director. For additional information, call UNCF: (213) 639-3800 or send email: margo.thomas(at)uncf(dot)org.