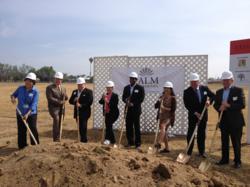 Irvine, California (PRWEB) March 30, 2013
Palm Communities, the Irvine based developer of high quality affordable housing for families, seniors and those with special needs, celebrated the groundbreaking of Cedar Glen Apartments, a gated community consisting of 50 residential units, including a manager's unit. The project is the first of two 50-unit phases with a target population of large families and clients of the Department of Mental Health through the Mental Health Services Administration program. The project includes four residential buildings and one building that will host the community center.
A menu of support services will be offered to residents at the facility's Community Center. A program coordinator will provide family appropriate classes for the residents, as well as collaborate with outside nonprofits and agencies to expand program options. Residents will have input as to which classes and programs are offered at the center. Typically, the classes will include the following:

English as a Second Language
After School Programs
Literacy Programs
Homework Assistance
Computer training
"Junior Achievement" Courses
Continuing Adult Education
Entering the Workforce Courses
"Basics of Life" course
Nutrition and Wellness Programs
Special needs residents will be provided with a Riverside County Mental Health HHOPE program Case Manager and Housing Specialist that will work with HHOPE referred tenants, the property manager, and the project's Social Services Program Coordinator to ensure that the residents who are receiving permanent supportive housing services under the MHSA housing program are successfully making the transition to stabilization.
"Cedar Glen represents a fairly new and very successful model for affordable housing," said "Dan Horn, CEO of Palm Communities. "This community is the fourth of its kind developed by Palm that will provide the highest quality affordable units and services for low income families and will blend in accommodations and support services for clients of the MHSA housing program.
Cedar Glen Apartments will be a huge asset to the community, including one-, two-, three- and four-bedroom units. With a warm and contemporary feel, the two-story residential development will contribute to the neighborhood by offering an aesthetically pleasing design and landscaping. Recreation areas will include a tot lot, a swimming pool and splash pad, a low impact cardio walking circuit, picnic areas, laundry facilities, security system, community gardens, covered parking, and a clubhouse that encompasses a kitchen, computer room, entertainment area/meeting space and restrooms.
About Palm Communities
Palm Communities is an integrated real estate development company that specializes in the creation and management of affordable housing for families, seniors and those with special needs. With a portfolio consisting of more than 1,600 affordable multi-family units in 16 communities throughout Southern California, we have earned a strong reputation for innovative design, commitment to lasting quality and delivery of projects on time and on budget. For over 30 years, Palm Communities has been committed to developing physically and economically sustainable residential developments that exceed the expectations of all our stakeholders: our public agency partners, business partners, lenders, investors, and most of all, our residents.