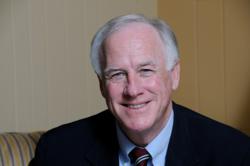 I could never have foreseen that these nearly two decades would be the most rewarding, fulfilling and important of my professional and personal life.
Baltimore, Md. (PRWEB) March 30, 2013
On March 25, 2013, Garrison Forest School's current Head of School, G. Peter O'Neill, Jr., announced his retirement, effective June 30, 2014. Mr. O'Neill's retirement will culminate two decades of exceptional leadership of Garrison Forest and nearly five decades as an educator and leader in the independent school community.
What began as an interim assignment for Mr. O'Neill in 1994 has evolved into the second longest tenured headship in the School's 103-year history. During his tenure, the school's annual fund has increased 177 percent and he has overseen the raising of more than $64 million in endowment and capital funds, creating a strong financial aid program and increasing professional development. Since 1994, the School has seen unprecedented campus-wide expansion and increased national and international recognition for innovative programs and partnerships including digital teaching and learning and the GFS/Johns Hopkins partnership: Women in Science and Engineering.
Mr. O'Neill's leadership and experience extend beyond GFS to advocacy of the broader independent school community through professional affiliations. In 2006, The Klingenstein Center at Columbia University recognized him as one of the country's most outstanding school heads. He has served as President of Association of Independent Maryland Schools, served on the boards of the National Coalition of Girls Schools, National Association of Principals of Schools for Girls, and Connecticut Association of Independent Schools, and works with Living Classrooms Foundation and the Baltimore Educational Scholarship Trust.
Mr. O'Neill is a frequent speaker for professional organizations including the National Association of Independent Schools. He has served as an adjunct faculty member at the Johns Hopkins Graduate School of Professional Studies, where he taught a course on independent school governance.
In Mr. O'Neill's retirement letter to GFS Board President David DiPietro, he writes: "I could never have foreseen that these nearly two decades would be the most rewarding, fulfilling and important of my professional and personal life. The reason is simple and completely understandable to anyone even fleetingly familiar with GFS. The School grabbed hold of me, much as it has embraced generations of students, alumnae, faculty and parents since 1910."
Mr. O'Neill graduated from St. Michael's College in Vermont with a B.A. in American Studies and earned his Master's degree, also in American Studies, from Trinity College in Connecticut. He and his wife Peggy live on campus and participate fully in the residential life of the School. Daughter Cara Foley graduated in 2008 from Garrison Forest.
A national Search Committee has been formed, co-chaired by former Garrison Forest Board Presidents Molly Mundy Hathaway '61 and Lila Boyce Lohr '63. Independent Thinking, a highly regarded, Boston-based search firm, is consulting with the search. For more information on the search, visit http://www.gfs.org. Questions to the Committee may be directed confidentially to headsearch(at)gfs(dot)org.