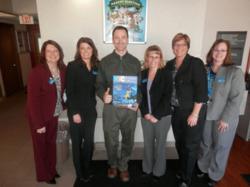 "Every time we visit [Lake Trust Credit Union], the service is extremely quick, and the staff is friendly, personable, and knowledgeable. I haven't had a better banking experience."- Lake Trust Member, Darrin D
Mt. Pleasant, MI (PRWEB) March 28, 2013
Yesterday afternoon, Lake Trust Credit Union employees joined Lake Trust grand prize winner and member, Darrin D. of Mt. Pleasant at a Gift Presentation event at their local Branch. Darrin was the lucky recipient of the 2012 Priceless New York® Sweepstakes through Lake Trust and MasterCard®. He and his wife will enjoy a prize valued at $22,500 featuring a four day, three night trip to New York City. In attendance were the Lake Trust Mt. Pleasant staff, along with Lake Trust Vice President of Retail Sheila Collins, AVP of Retail Kim Oblak and Regional Manager Lori Trainor.
"My wife and I couldn't be happier with Lake Trust Credit Union," said Lake Trust Member, Darrin D. "Every time we visit, the service is extremely quick, and the staff is friendly, personable, and knowledgeable. I haven't had a better banking experience than at Lake Trust."
Darrin was entered into the sweepstakes simply by using his Lake Trust MasterCard Debit Card in November or December of 2012. He and his wife are very excited about the trip and their relationship with Lake Trust and the Mt. Pleasant staff.
"A sweepstakes is a great way to generate excitement amongst our members, and at the same time, make a difference in one lucky member's life," said Lake Trust Regional Manager, Lori Trainor. "We continue to focus on bringing value to our members through great products and services, and our Mt. Pleasant team is so excited to have our local member win this sweepstakes."
Visit the credit union's website for more information on products and services, educational opportunities, contests, and member benefits.
Lake Trust Credit Union is Michigan's fourth largest credit union with branches stretching from Lake Michigan to Lake Huron and Lake Erie. With more than $1.5 billion in assets, Lake Trust provides over 157,000 members with best-in-class products and offers individualized, trust-based member service. As a community-based credit union, Lake Trust strongly believes in supporting its communities and participates annually in Komen for the Cure® in Ann Arbor and Lansing, as well as nearly 100 events and causes annually throughout Michigan. Membership is open to anyone within its 35-county service area. Follow Lake Trust on Twitter @laketrust. Lake Trust is also on Facebook.