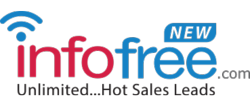 San Mateo, CA (PRWEB) March 28, 2013
infofree.com, the home of unlimited sales leads and mailing lists for only $49.95 per month, now offers an expanded set of selections for its Triple-Verified Business Database as part of its new subscription plan.
infofree.com has changed the way that small businesses and salespeople find new customers by offering unlimited search, select, and view of its database of over 14 million businesses and 220 million consumers for the incredible price of only $49.95 per month. Subscribers can access high quality leads, including contact names, phone numbers, and email addresses where available to find new customers and grow their businesses.
Now, infofree.com subscribers can search an even wider range of over 14 million business sales leads by utilizing its new nationwide business search and 2-digit SIC code selection. During a search of the business database, users can specify a customized geographic area, including a city, state, county, ZIP code, area code, or radius around an address. The new nationwide search will enable users to search across the entire U.S., giving them more results to choose from. By using the 2-digit SIC codes selection, businesses can target their lists by any broad industry of their choice.
"Our customers constantly rave about the wide variety of selections that we offer, allowing them to find the most customized lists available. These new additions will help ensure that they find the sales leads to suit their business needs," says Rakesh Gupta, President of infofree.com.
To try infofree.com for 1 week for only $1, visit infofree.com/weektrial or call 877.448.0101.
About Us: infofree.com™ is revolutionizing the sales lead and mailing list industry by providing unlimited search, select, and view of over 14 million business records, 220 million consumers, and hundreds of other specialty databases for the low, flat price of only $49.95 per month or $449 per year. Reach new homeowners, new movers, newlyweds, new businesses, and more!
The infofree.com content is compatible with the following platforms: Oracle CRM, Salesforce CRM, Microsoft CRM, Nutshell CRM, Goldmine CRM, Sage ACT! CRM, Highrise CRM, Zoho CRM, NetSuite CRM, SAP CRM, Constant Contact, RightNow Technologies, Responsys, Vertical Response, and Dun & Bradstreet.