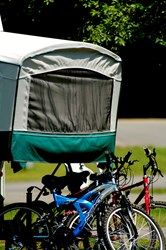 Online camping reservations are now available at Beech Fork State Park.
South Charleston, WV (PRWEB) March 29, 2013
Spring-like weather in West Virginia is a precursor for the variety of events and outdoor activities planned at the Mountain State's parks in late spring into summer months. "Spring hikes that reveal wildflowers and migratory birds to new overnight reservation options are part of this year's change," says Sissie Summers with West Virginia's state parks. The parks website includes the most current activities, programs, and events planned at parks as well as accommodations and camping options at the 49 areas that comprise the park system.
Camping changes at Pipestem Resort and Beech Fork state parks
There are 29 areas with campgrounds and sites range from primitive to full-service. Most campgrounds open mid-April through late-October into November, but reservations are taken for dates from Friday prior to Memorial Day through Labor Day and other dates are first-come, first served.
Two new options for camping are at Pipestem Resort and Beech Fork state parks. "Pipestem sites are all reservable from Memorial through Labor Day weekends," says Paul Redford, District Administrator. Past practice was that 50 percent of the sites were reservable and the other half on a first-come, first-served basis. "Our camping visitors needed the reassurance of a site upon arrival when traveling long distances." To learn more about Pipestem Resort State Park, click here.
Beech Fork State Park has 275 sites in four campgrounds. Two of the four distinct areas, Old Orchard and Moxley Branch, are all reservable and now available for reservation online. "It took almost two years to get the many, many aspects unified into a functioning online reservation system and we are extremely happy for this service to begin in 2013," says Matt Yeager, park superintendent. The online service began March 15 and the park had nine reservations within one hour of the activation. Click here to learn more about Beech Fork State Park.
Visit here for more information about all campgrounds within the state park system.
Spring into Summer programs
Parks offer summer activities and interpretative programs are part of the mix. Three Rivers Avian Center (TRAC) is scheduled at 13 areas in 2013. TRAC is a raptor rehabilitation center that offers educational programs about birds of prey. The program features live birds and encourages questions and close-up observation of these creatures.
Three special days include the 250th anniversary of Shawnee Warrior Cornstalk's Raid on the western Virginia Euro-American settlements in the Trans-Allegheny region. Parks showcasing this history presentation are Kanawha State Forest, May 4; Tu-Endie-Wei State Park, June 1; and Hawks Nest State Park, Sept. 7. The full-day of activities is presented by Trails, Inc.
Birding, as well as spring wildflower walks are, popular pastimes at parks. Three spring birding walks are featured at Prickett's Fort State Park near Fairmont, W.Va. The walks depart from the visitors center at 8 a.m. on April 20 and 27 and May 4. A Bird Banding Weekend at Tygart Lake near Grafton, W.Va. is May 3-5 and is an opportunity to see migratory songbirds and banding for scientific research. Overnight accommodations are available at Tygart Lake Lodge. Tygart Lake State Park is open year-round and near enough to Prickett's Fort and Valley Falls state parks to service those visitors. Click here for more information about Tygart Lake State Park and activities.
Spring wildflower walks are scheduled at Tygart Lake State Park on April 13; and at Chief Logan and Twin Falls state parks and Kanawha State Forest on April 20. Kanawha State Forest and Pipestem Resort State Park host "Falls and Flowers: The Nature of Brush Creek, on April 21. Other hikes are scheduled and posted on the website Events Calendar.
Pipestem Resort has an outdoor amphitheater and from Memorial through Labor Day, most Saturdays feature a show or program. It is an outdoor venue with great acoustics. Other parks with outdoor amphitheaters that frequently have programs staged include: Chief Logan, Prickett's Fort, Twin Falls, Camp Creek, and North Bend state parks.
Bluegrass
North Bend State Park hosts a two-day Bluegrass Festival on May 10-11 featuring multiple bands. Bands include The Hart Brothers, Remington Ryde, The Hillbilly Gypsies, Buddy Griffin and Ashley Messenger, Buck and Company, and Johnny Staats and the Delivery Boys. For more information about North Bend State Park, visit here. Tickets are $30 for the 10th annual two-day festival. Individual day attendance rates are available as well as overnight package.
Surprising events. Impressive accommodations.
State parks in West Virginia offer a surprising number of events and activities. More impressive are the different types of lodges, cabins, cottages and campgrounds.
Canaan Valley has the new lodge opening in late autumn with room views that capitalize upon the scenic beauty of the area.
"Everyone knows or has heard of the Shay locomotives at Cass Scenic Railroad. But the majority of our guests are genuinely unaware of this unique place to stay," says Brad Reed, district administrator. Rental of one of 20 renovated company houses at Cass via online reservations will fast-forward this early 1900s town with new arrivals. Online reservations for house rentals at Cass will become available in 2013.
All state parks with lodges offer online reservation services and recently the reservation sites have been optimized for easier use by smart phones, mobile devises and tablets.
To learn more about West Virginia's state parks and state forests, visit here.