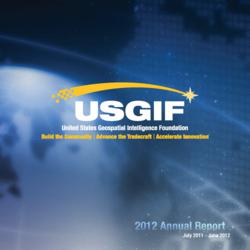 It's our responsibility to provide this level of transparency to our members
Herndon, VA (PRWEB) March 29, 2013
The 2012 Annual Report from the United States Geospatial Intelligence Foundation (USGIF) is now available. The annual report covers fiscal year 2012 (July 2011 to June 2012) and contains details on the Foundation's accomplishments and financials.
"It's our responsibility to provide this level of transparency to our members," said USGIF CEO, Keith Masback. "In addition to highlighting the Foundation's accomplishments, the report points to an important bottom line, verified by an independent third-party audit: 89 cents of every dollar we bring in goes towards our programs. We're proud of that number and think it demonstrates our commitment to being responsible stewards of GEOINT Community resources."
Some of USGIF's featured achievements include launching its official magazine, trajectory, increasing membership to 209 Sustaining Member organizations, creating the Small Business Advisory Working Group (SBAWG), which provides small business members with the resources to network with government agencies and large businesses, and approving $94,000 in scholarships for 20 students studying the geospatial sciences.
Additionally, USGIF has been involved in numerous activities, such as hosting networking events through its Young Professional Group (YPG), organizing the growing GEOINT Community Week and hosting its biggest and most successful annual GEOINT Symposium. These successes represent the Foundation's mission and its tenets: "Build the Community. Advance the Tradecraft. Accelerate Innovation."
About USGIF
USGIF is a non-profit educational foundation dedicated to promoting the geospatial intelligence tradecraft and developing a stronger GEOINT Community with government, industry, academia, professional organizations and individuals whose mission is the development and application of geospatial intelligence to address national security challenges. For more information, please visit http://www.USGIF.org