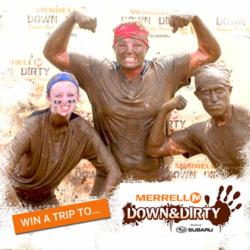 We are so excited to give PlanetShoes customers the chance to win this fantastic trip to Chicago for the Merrell Down & Dirty Mud Run. -Katie Doyle, PlanetShoes Marketing Manager
Waltham, MA (PRWEB) March 29, 2013
PlanetShoes.com is proud to announce its partnership with Merrell® to give away a trip to the Merrell Down & Dirty Mud Run in Chicago, IL on May 19, 2013. The trip giveaway is in celebration of the launch of M-Connect, Merrell's minimalist solution for the outdoor athlete. From March 4th through March 31st, customers will receive one entry into the sweepstakes for every pair of Merrell footwear purchased at PlanetShoes.com. Entries can also be made through the PlanetShoes Facebook page.
The travel package includes:
•1 ticket to the 5K OR 10K (depending on winner's preference) Down & Dirty Mud Run in Chicago, IL on May 19, 2013
•2 roundtrip air or train tickets (for winner and guest) to Chicago IL
•2 night hotel stay at West Dundee Towne Place Suites by Marriott, West Dundee, IL
•$500 cash prize
About PlanetShoes
PlanetShoes.com is an innovative lifestyle retailer committed to helping people live healthier, more eco-friendly lives. The first in the industry to offer a CarbonFree Plus shipping alternative, PlanetShoes.com specializes in products that blend function, style, comfort and value with eco-ethics. The company proudly offers a wide selection of shoes, bags, and other accessories from more than 180 brands. For more information, visit http://www.planetshoes.com.
About Merrell
Merrell is a brand within the Outdoor Group, a division of Wolverine World Wide, Inc. that also includes Chaco and Patagonia Footwear. Merrell believes in encouraging everyone to get outside, be active and have fun. The Brand's mission is to increase youth participation in the outside through causes like Outdoor Nation and national events like the Merrell Down and Dirty Mud Run Series. Wolverine World Wide, Inc. is headquartered in Rockford, Michigan.