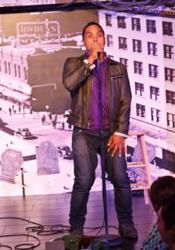 It's great to finally have fresh stand up comedians like Michael Quu back on the club circuits. The days of quirky, awkward, bottle cap glasses wearing alternative comedians are finally dying down and it couldn't happen fast enough
New Haven, CT (PRWEB) March 28, 2013
Michael Quu debuts at Jokers Wild in New Haven Connecticut April 23rd. Quu (pronounced Q) has been conquering crowds across the US gaining the attention of comedy fans and critics. The rising star of comedy takes on the decline of American culture with sharp, witty humor and personal stories.
The young comic has sold out venues across the west coast and has a tremendous internet following that has brought him to areas he'd never thought possible.
"I recently performed in Austin, TX to a sold out room. I've never even been to Texas before so I was shocked that I had such a big following there already. I just love going to these new places. All the crowds are great." stated Michael Quu.
For his material, Michael Quu mines phenomenon like his attraction to "thick" women, and a vignette about parents treating their dogs better than their kids.
Critics have praised Michael Quu for being a breath of fresh air from the current wave of alternative comedy that is fading in popularity.
"It's great to finally have fresh stand up comedians like Michael Quu back on the club circuits. The days of quirky, awkward, bottle cap glasses wearing alternative comedians are finally dying down and it couldn't happen fast enough." stated Andrew Horowitz of the Miami Herald.
Quu is skilled at weaving his ideas and stories together and reaching back for callbacks and references to items he's previously put out there in the performance.
Michael Quu will be performing on April 23rd at Jokers Wild. To get tickets go to http://www.jokerswildclub.com or tickethunteronline.com.