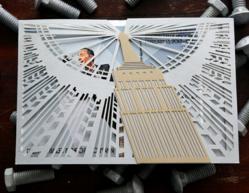 It was an incredible experience to work with one of the finest event designers of our time! Preston Bailey's grace and elegance set him apart from all others.
New York, New York (PRWEB) March 29, 2013
Tifany Wunschl of Gourmet Invitations was honored to have been chosen to design and produce the wedding invitations and the menu's for Preston Bailey and Theo Bleckmann's King Kong themed nuptials. The wedding took place the first moments of Valentines Day 2013 at the top of the Empire State Building. Preston and Theo were married by Joan Rivers in an elaborate ceremony surrounded by friends and family.
Tifany Wunschl made her first television appearance on" Preston Bailey's Dream Wedding" airing on WeTV! The first showing was on Friday, March 15th at 12:30 pm. It aired again Saturday, March 16th at 10 am. The show featured the amazing behind the scenes footage of Preston Bailey and Theo Bleckmann's wedding that took place at midnight on Valentine's Day at the Empire State Building.
About Gourmet Invitations:
Gourmet Invitations, was born from Tifany's own wedding in March 1999. Back then, most couples ordered invitations from catalogues. She ordered her invitations, but decided to make the rest of the paper goods--programs, place cards, table numbers--by hand, herself. Soon, she found herself doing the same for friends and family and loving it. In 2002, Tifany launched Gourmet Invitations, and it has grown more quickly than she ever could have dreamed.
Over the years, She's added seating charts to her menu of handmade paper goods, and found herself not only making invitations for weddings, bridal and baby showers, and engagement parties, but also save-the-dates and thank you notes. For an up-close look at (and lots of pictures of) some of her most creative projects, visit the Gourmet Invitations blog. From invitations printed on records to destination wedding invitations in the form of passports to motifs inspired by dresses, chandeliers, and even entire city skylines, there is no project too "out there" for
her to tackle.
Tifany has been voted "Best Invitations" by NBC Detroit for three consecutive years, 2007, 2008 and 2009, in Destination Weddings I Do, Brides Michigan, The Knot editions of Michigan, DC, New York and California, Hour Magazine, Ambassador Magazine and many others. My work has also been featured on Style Me Pretty, Brides.com, Glamour.com, People.com, RocknRollBride.com, Green Wedding Shoes, Every Last Detail and many more. Her work has also appeared on Entertainment Tonight and WeTV.
When she works with any client, the end result is truly a collaboration. Her hands may put the product together, but the style, look, and feel reflect the client's ideas and influence. They work together to set the perfect tone and theme for your event. After all, an invitation is the first--and only--thing your guests will see before the actual wedding. The first impression should always be special, memorable, and give guests something to look forward to. That and her clients happiness are Tifany's goals when you work with Gourmet Invitations.
Invitation Photos by Robert Evans Studios http://www.robertevans.com