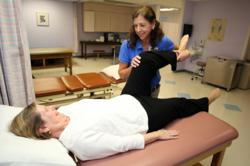 Our program is dedicated to the highest level of evidence-based practice proven techniques that give our patients quality of life.
(PRWEB) March 29, 2013
Florida Hospital Tampa is celebrating a successful first year as the only Outpatient Therapy Center in Tampa Bay offering both Lee Silverman Voice Treatment (LSVT) for speech communication (LSVT LOUD) and physical/occupational therapy (LSVT BIG) therapy programs. These programs are clinically-proven methods of treating patients with Parkinson's Disease (PD) and they are being used for other conditions including aging, stroke, multiple sclerosis, cerebral palsy, and Down's syndrome. LSVT BIG and LOUD therapy was developed and scientifically researched over the past 20 years with funding from the National Institutes of Health. The program uses innovative and clinically-proven methods to help treat the symptoms of Parkinson's disease (PD) and associated neurological conditions giving patients and families new hope. The therapy improves communication and movement skills and it is showing some benefit for multiple sclerosis, cerebral palsy and stroke patients. Research on LSVT BIG physical and occupational therapy has shown improved ratings on motor skills and functioning tests in people with PD following treatment. Major improvements for patients include faster walking with bigger steps, improved balance, and gross and fine motor functioning. A key benefit is of the therapy is an increase in core strength which results in fewer falls and injuries.
The occupational therapy component works on fine motor skills like writing, getting dressed and doing basic household chores. "This therapy helps our patients manipulate zippers and buttons so they have more clothing options like wearing regular trousers, and they are no longer limited to wearing elastic waistband pants," said Erik Spahn, Certified Occupational Therapist at Florida Hospital Tampa.
LSVT LOUD improves vocal loudness by stimulating the muscles of the voice box (larynx) and speech mechanism through a systematic hierarchy of exercises. This program improves breathing, swallowing and talking clearly. The treatment does not train people for shouting or yelling; it actually helps patients reach a healthy vocal loudness with no strain. While LSVT LOUD has been successfully administered to individuals in all stages of PD, the treatment is most effective among those who are in early or middle stages of the condition. Recently, LSVT LOUD is being applied to select individuals with stroke, multiple sclerosis, Down's syndrome and cerebral palsy with positive outcomes. The therapy program consists of one-hour sessions, four days a week for a total of four weeks. Certified speech pathologists, physical therapists and occupational therapists work together to help patients through the process and patients are re-evaluated at the six month point. "Our program is dedicated to the highest level of evidence-based practice – proven techniques that give our patients quality of life – like the ability to read to their grandchildren again, volunteer in the community and even keep up with their peer group while walking the mall," said Janet Rice, Director Therapy Services at Florida Hospital Tampa.
Instead of isolating one body part, like many traditional treatments, the BIG/LOUD therapy programs translate to every single body part, from opening the mouth and deep breathing to increasing endurance for walking and improving posture. "We began with the LOUD (speech/voice) program in 2008 and added the BIG program in March of 2012 because we saw the need for a comprehensive team approach to movement and speech disorders. It's an exciting time to be at the one year mark as we have seen success, we can measure long-term results and we are making a difference in the lives of our patients," said Rice.
The Florida Hospital Tampa Outpatient Therapy Center is located at 3102 East 138th Avenue in the Health Park building. The Center has a team of two physical therapists, two speech pathologists and one occupational therapist. Patients interested in the program should start the process with their primary care physician or neurologist. To learn more, please visit http://www.fhtampa.org or call (813) 615-7253. The mission of LSVT Global is to provide unlimited access to proven treatments for all who can benefit. If you would like to learn more about how the Lee Silverman Voice Treatment therapy developed visit http://www.lsvtglobal.com.
About Florida Hospital Tampa
Florida Hospital Tampa is a not-for-profit 475-bed tertiary hospital specializing in cardiovascular medicine, neuroscience, orthopaedics, women's services, pediatrics, oncology, endocrinology, bariatrics, wound healing, sleep medicine and general surgery including minimally invasive and robotic-assisted procedures. Also located at Florida Hospital Tampa is the renowned Florida Hospital Pepin Heart Institute, a recognized leader in cardiovascular disease prevention, diagnosis, treatment and leading-edge research. Part of the Adventist Health System, Florida Hospital is a leading health network comprised of 22 hospitals throughout the state. For more information, visit http://www.FHTampa.org.
About Florida Hospital Tampa Outpatient Therapy Center
The Florida Hospital Tampa Outpatient Therapy Center is a comprehensive rehabilitation center located in the Health Park building at Florida Hospital Tampa. The outpatient center offers interdisciplinary treatment utilizing physical therapy, occupational therapy and speech therapy. Specialty programs include oncology rehabilitation, hand therapy, orthopaedic therapy and a comprehensive stroke program.