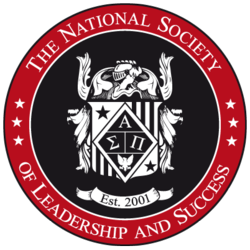 Honoken, NJ and Durham, NC (PRWEB) March 29, 2013
The National Society of Leadership and Success (http://www.societyleadership.org/), the innovative leadership program for higher education where leaders are built to make a better world, today announced that they will showcase their program at the North Carolina Comprehensive Community College Student Government Association (N4C SGA) Conference in Durham, NC.
Colleges and universities across the country are looking for leadership programs to reduce attrition, increase student engagement and offer real-world leadership knowledge. According to a recent study from 2011-2012, 97 percent of chapter advisors indicated that the Society positively affects student retention, as well as grades. As a result, many campuses are turning to the Society for chapter implementation to empower their student population.
Marissa Curry, Regional Director of Program Development, will present the topic, "Building Leaders: One Goal at a Time" on April 5th to the attendees of this event. Ms. Curry will take attendees through a section of the Society methodology on goal setting using a hands-on approach.
Currently, within the North Carolina Community College system, there are more than 4,100 students enrolled as members in the Society within the following chapters:

A-B Tech Community College
Blue Ridge Community College
Caldwell Community College
Cleveland Community College
Davidson County Community College
Haywood Community College
Lenoir Community College
Mitchell Community College
Pitt Community College
Richmond Community College
Rowan-Cabarrus Community College
Stanly Community College
Wake Tech Community College
Schedule a briefing with a Society expert: Those interested in scheduling an in-person briefing with the Society at N4C SGA can contact Marissa Curry by email at mcurry(at)societyleaderhip(dot)org

About The National Society of Leadership and Success
The National Society of Leadership and Success was founded in 2001 to build leaders who make a better world. As of today, The National Society of Leadership and Success provides these stellar attributes to more than 263,000 members nationwide and to more than 350 active college chapters who embody this mission, and serves as a powerful force of good in the greater community by encouraging and organizing action to better the world. For more information, please visit http://www.societyleadership.org.
###