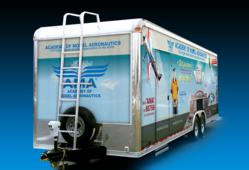 Flight School allows the viewer to answer all of their 'how do I' questions in a user-friendly environment, something we have never offered before
Muncie, IN (PRWEB) March 29, 2013
The Academy of Model Aeronautics' Education department has been gearing up for spring and summer flying season by developing new programs to offer innovative ways to advance education through model aviation. Two of the most exciting additions include AMA Flight School, an online educational experience, and the new mobile model aviation experience, a traveling education simulator and video display vehicle.
AMA Flight School, http://www.amaflightschool.org/ AMA's newest online resource, launched as an educational tool to answer the question, "how do I?" To promote the new program, and educate the public about the Academy's educational programs, the AMA has also designed a mobile model aviation experience. This new traveling education portal will be sent across the country to promote the Academy's programs and encourage the young, and the young at heart, to learn more about model aviation.
AMA Education Director Bill Pritchett is excited about Flight School and the many things it will offer website visitors. "Flight School allows the viewer to answer all of their 'how do I' questions in a user-friendly environment, something we have never offered before," he said. The website contains many different areas for those looking to learn more about aeromodeling, including an online interactive learning tools, do-it-yourself activities, information on events around the country, information about getting started in the hobby, and much more.
The brand-new mobile model aviation experience is scheduled to be on the road for several months in 2013. The staff will be visiting many events across the country to promote AMA's educational programs and provide those interested in the hobby a chance to work with simulators.
For more information on AMA's educational programming visit http://www.modelaircraft.org/education/education.aspx or contact AMA's Education department at (765) 287-1256 ext. 516.
# # #