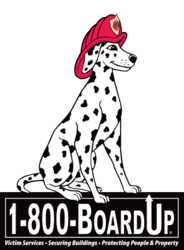 We are an organization obsessed with excellence in everything that we do. We continually strive to seek out new opportunities to assist those in need, to improve our organization and to grow responsibly.
-Michael Hosto, President 1-800-BOARDUP
Stockbridge, Ga. (PRWEB) March 30, 2013
AAA Restoration Company is proud to be named the local service provider for 1-800-BOARDUP. AAA Restoration Company's collaboration with 1-800-BOARDUP is an extension of its stewardship and community affairs programs. AAA Restoration Company provides fire, smoke and water damage clean-up for the Greater Atlanta community. In addition to offering superior disaster restoration services, AAA Restoration Company supports the neighborhoods where clients and customers live and work. AAA Restoration Company can be found on-line at http://www.aaarestorationco.com.
"1-800-BOARDUP is an organization obsessed with excellence in everything that we do. We continually strive to seek out new opportunities to assist those in need, to improve our organization and to grow responsibly," says Michael Hosto, President and owner of 1-800-BOARDUP. 1-800-BOARDUP is the largest franchise company specializing in disaster emergency response services. The company, established in 2003, is headquartered in Saint Louis, Missouri.
"AAA Restoration Company helps people recover from disaster. Our mission is to help victims recover from disaster and to help homeowners rebuild their homes and lives so we appreciate 1-800-BOARDUP's commitment to victim assistance. More fire departments and insurance claims professionals work with 1-800-BOARDUP than any other emergency response company in America," says Brandon Robertson, President of Business Development at AAA Restoration Company. Guaranteeing a quick response time, 1-800-BOARDUP and AAA Restoration Company serve 13 Metro Atlanta, Georgia counties including Clayton, Dekalb, Fayette, Fulton and Henry.
"Service excellence is a core value at AAA Restoration Company so we are excited to join the team of trained and experienced 1-800-BOARDUP local emergency responders," continues Robertson. Additional information about AAA Restoration Company's core values can be found online at http://www.aaarestorationco.com.
For additional information on AAA Restoration Company's partnership with 1-800-BOARDUP, please contact Mandy Mode or visit http://www.aaarestorationco.com.
About AAA Restoration Company
AAA Restoration Company is a one-stop, single-source solution for any homeowner disaster, (aaarestorationco.com).
AAA Restoration Company is a family-owned business serving clients in 15 Metro Atlanta and Metro Nashville counties. Using methodology created from years of reconstruction industry expertise and experience, AAA Restoration Company helps property owners restore their homes and businesses.