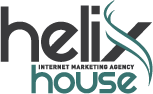 This is a true testament to the hard work and dedication of each and every Helix House team member, and a re-affirmation of the wonderful relationships we have created with our clients
TEMPE, AZ (PRWEB) March 30, 2013
Helix House, a progressive and innovative Internet Marketing Agency with offices in Arizona and New Mexico is proud to report its continuing success with recently reported first-quarter results. The company continues to garner the attention of industry watchers as it advances its ascent in the search engine optimization services sector. What's truly amazing is that Helix House has reported an increase in business that is three times above normal production rates as compared to 2012. Company owners Michael Donato and Alona Rudnitsky attribute their steady growth to dedicated customer service that is designed to exceed all expectations.
Having recently ranked as one of the top SEO firms in the state by "Ranking Arizona," co-owner Michael Donato stated:
"This is a true testament to the hard work and dedication of each and every Helix House team member, and a re-affirmation of the wonderful relationships we have created with our clients"
In the highly competitive Internet marketing and search engine optimization arena few companies stand out as unique and extraordinary, Helix House is one such company. In addition, the company holds the distinction of being one of the few companies in the region that is a Google certified firm. The company prides itself on gaining steady return business from satisfied customers and a growing clientele base thanks to word-of-mouth advertising and online referrals that may at times be considered viral in nature. In other words, when any company delivers quality at affordable prices, the word gets around.
Helix House is also able to boast an impressive 97% customer retention rate. The company offers clients short-term contracts for services rendered and hands-on interactive contact with team members. First-time customers as well as existing clients are routinely impressed by the obvious commitment to total customer satisfaction and customer care. Helix House is a "results driven company" that stays at the leading edge of the latest online strategies and technologies in an effort to provide customers with the best Internet marketing services possible. Helix House Offers state-of-the-art Internet Marketing services that include web development, e-mail marketing, text message marketing, social media services, pay per click services, standard search engine optimization services, as well as a wide range of Google related services. Visit them online today at myhelixhouse.com.
Helix House is a highly innovative forward looking Internet marketing agency located in sunny Arizona and breezy New Mexico that has consistently exceeded industry expectations to continually rank highest among some the best SEO companies in the country.