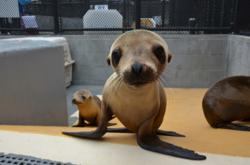 "This year's supply of anchovies and sardines - an important food source for sea lions - could be limited and may be the reason why these pups are so malnourished." Jeff Boehm, executive director, The Marine Mammal Center.
Sausalito, CA (PRWEB) March 29, 2013
Veterinary staff and volunteers from The Marine Mammal Center (the Center) in Sausalito are providing medical care to approximately 30 malnourished and sick California sea lions that were transferred from inundated Southern California facilities. The transfer also included two northern fur seals, five elephant seals and one harbor seal, which freed up hospital space at the Pacific Marine Mammal Center, Santa Barbara Marine Mammal Center, and Fort MacArthur Marine Mammal Care Center, allowing them to care for more incoming patients.
The National Oceanic and Atmospheric Administration has declared that "an unusual morbidity event is occurring for California sea lions in Southern California" and estimates that between January 1 and March 24, 2013, more than 900 malnourished and weak sea lions were rescued in the region. By comparison, approximately 100 sea lions were rescued from the region during that same time in 2012.
"It's not known with certainty why these sea lions are stranding so malnourished, but biologists' studies from last spring suggested that this year's supply of anchovies and sardines could be limited," explained Jeff Boehm, executive director at The Marine Mammal Center. "These two species of fish are an extremely important part of California sea lions' diets and females simply may not have been able to nurse their young sufficiently, resulting in abandonment, premature weaning and subsequent strandings."
Including the transferred patients, The Marine Mammal Center now has 100 patients on site. This extraordinary event coincides with harbor seal and elephant seal pupping season, which is heaviest from March to May with the Center rescuing approximately 200 malnourished, sick and injured seals during that time. The Center predicts that with the added sea lions from Southern California, the patient count could rise to as many as 200 patients on site at any one time this spring - double the normal patient load.
"Our priority is to always provide the best medical care for all of our patients and get them healthy and back out in the ocean," explained Dr. Shawn Johnson, director of veterinary science at The Marine Mammal Center. "We know what it's like to have large patient numbers here, and we'll employ what we learned in 2009 when we admitted 1,704 patients – more than double our annual average - to provide efficient, safe and effective animal care."
The Marine Mammal Center urges the public to leave stranded marine mammals on the beach alone - keep people and dogs at least 50 feet away and call the Center's 24-hour response hotline at (415) 289-SEAL (7325) for help. It is not safe to touch or pick up a seal or sea lion as it may cause physical harm to the animal as well as to the human. Also, disturbing or harming marine mammals is illegal and punishable by law under the Marine Mammal Protection Act of 1972. Only trained, authorized responders, like volunteers and staff from The Marine Mammal Center, are authorized to come into contact with these wild animals. Details on what to do when coming across a sick or injured marine mammal are available at marinemammalcenter.org/leavesealsbe.
In addition, the Center is asking for the public's help to support its Dollar-a-Pound campaign to feed seal and sea lion patients. The cost to purchase one pound of fish is $1 and the Center needs 60,000 pounds of fish to feed the influx of patients coming in by April 30. Text the word FISH to 85944 to donate $10 from your mobile phone and give a seal a meal! Details at marinemammalcenter.org/dap.
About The Marine Mammal Center:
The Marine Mammal Center is a nonprofit veterinary hospital, research and educational center dedicated to the rescue and rehabilitation of sick and injured marine mammals - primarily elephant seals, harbor seals and California sea lions - and to the study of their health. The Center is headquartered in the Marin Headlands, Sausalito, CA, within the Golden Gate National Recreation Area, and since 1975, has rescued and treated more than 18,000 marine mammals. The Center's headquarters in Sausalito gives visitors the unique opportunity to learn about marine mammals through viewing areas and educational exhibits. Now on display in 2013 is The Ghost Below - a thought-provoking art exhibit made from the nets and trash found in the belly of a whale.
The Center is open daily 10 A.M.-5 P.M. except for Thanksgiving, Christmas and New Year's Day. Admission is free. For more information and to sign up for the Center's eNewsletter, go to: MarineMammalCenter.org.