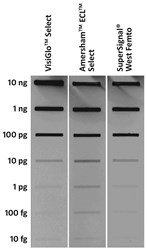 Solon, Ohio (PRWEB) March 31, 2013
Chemiluminescent substrates are standard reagents for the detection of horseradish peroxidase (HRP) in Western blotting. Not all substrates perform equally, however. Critical characteristics to consider for chemiluminescent substrate selection are the sensitivity required to detect a target of interest, the stability of the signal generated and the ability to quantify the signal. AMRESCO's VisiGlo™ HRP Chemiluminescent Substrate Kit with picogram sensitivity is now one of three VisiGlo™ options available after the addition of VisiGlo™ Prime and VisiGlo™ Select HRP Chemiluminescent Substrate Kits to their repertoire. The different formulations, from low to high sensitivity, allow HRP detection across a broad range of Western blotting conditions.
AMRESCO's new VisiGlo™ Prime HRP Chemiluminescent Substrate Kit is ideal for accurate protein quantitation, with a linear dynamic range of signal versus protein concentration encompassing over three orders of magnitude. The substrate has attomolar sensitivity and can detect both low and high abundance protein on a single blot exposure without exhibiting substrate depletion, a phenomenon observed as inverse staining of highly concentrated protein. The chemiluminescent emission from VisiGlo™ Prime is highly stable, lasting hours after substrate incubation to allow time for optimizing exposures. VisiGlo™ Prime is recommended for use with CCD imagers or film.
VisiGlo™ Select HRP Chemiluminescent Substrate Kit combines a broad linear dynamic range and low femtogram sensitivity to enable quantitation of low-abundance targets that other substrates may not reveal. The sensitivity and high signal-to-noise ratio permit target detection with minimal consumption of valuable protein and antibody reagents and allow long exposure times without compromising image quality. The signal generated by VisiGlo™ Select incubation is stable for hours and may be captured by film, CCD and fluorescence-based imaging systems for maximum flexibility.
AMRESCO's VisiGlo™ chemiluminescent substrates are designed to achieve maximum signal-to-noise ratios in various blotting conditions. VisiGlo™ is best suited for moderate to high abundance protein detection, while VisiGlo™ Select offers the most intense signal for use in blotting with low abundance targets. For sensitivity and accurate quantitation, VisiGlo™ Prime's wide dynamic linear range is an ideal choice. The chemiluminescent signals of the three VisiGlo™ options are all compatible with CCD and film imaging. VisiGlo™ Select also works with fluorescent imaging systems.
For more information about the VisiGlo™ HRP, VisiGlo™ Prime and VisiGlo™ Select substrates or any other AMRESCO products, visit http://www.amresco-inc.com or call 1-800-448-4442.
AMRESCO is a manufacturer and supplier of high quality biochemicals and reagents for life sciences in applications including molecular biology, proteomics, histology and clinical research. The company is ISO certified to ensure customers receive the highest quality products.