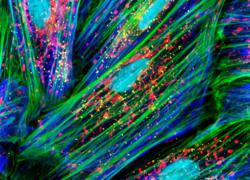 The LabRoots Cell Biology image contest is a fun way to showcase different research technologies and techniques available to researchers
Yorba Linda, CA (PRWEB) March 29, 2013
LabRoots, the professional networking and collaboration site for scientists, announced they have opened a new contest for scientists to display images from their work showcasing Cell Biology. The contest went live this week and will end June 30th of this year. LabRoots would like to highlight the beauty of science through images of cells at both the microscopic and molecular levels. LabRoots is offering a $250 Amazon gift card to the winner with the image that receives the most votes from viewers.
Open to all LabRoots members, the contest emphasizes the importance of many areas of basic research and discovery about functions and pathways of living organisms. Entries can be any image relating to cell biology, displaying an interesting characteristic or functional process. Cell biology can be both scientific and artistic. The contest is aimed at showing both sides of cell biology and is open to all scientists and professionals.
"The LabRoots Cell Biology image contest is a fun way to showcase different research technologies and techniques available to researchers," says Jennifer Ellis, LabRoots Marketing Manager.
Cell biology has become a very revealing field of science since the development of imaging technologies and more recent breakthroughs in fluorescent proteins, nano tagging, and high resolution imaging at the molecular level. Cell biology is the study of cells at both the microscopic and molecular levels and encompasses physiological properties of cells, their structure and organelles, how they interact with their environment, their life cycle, division, and cell death. Knowing how cells work is fundamental to biological sciences and is closely connected to other areas of research, including genetics, biochemistry, developmental biology, molecular biology, and immunology.
LabRoots is the leading professional networking website designed to connect all science verticals, allowing scientists from around the world to build relationships with other scientists and increase their influence within the scientific community. The site has sky-rocketed to be one of the top scientific internet portals for the community to utilize on a daily basis, leveraging its Facebook level functionality and customized features. LabRoots gives scientists a place to share their expertise and learn from one another.
Visit the LabRoots Contests page to view current entries and add your own.
Register for the scientific social networking website LabRoots at http://www.labroots.com
About:
LabRoots is the leading professional networking website designed to connect all science verticals. Founded in March 2008, LabRoot's vision was to connect the scientific world leveraging a myriad of unique features and tools, discovering meaningful collaborations across geographic boundaries and fields of expertise. LabRoots is the owner and producer of BioConference Live- which has grown into the world's largest series of virtual events within the Life Sciences and Clinical Diagnostics community.