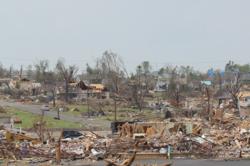 Poseyville, Indiana (PRWEB) March 31, 2013
Carl A. Nix Welding, Inc. is proud to announce their line of storm shelters. This family owned and
operated company began in the late 1800's when Charles Nix settled in Poseyville, Indiana after making
the journey from Germany. Charles operated a blacksmith shop shoeing horses and forming iron. His
two oldest sons eventually ran the business for several years before turning it over to the youngest son
Carl A. Nix. Carl operated out of his small dirt floor building for several years before moving across town
to its current location at 21 North Endicott Street.
With over 100 years in business, welding has changed dramatically over the years for the Nix Company.
The longevity of the company has allowed the 5th generation of Nix's to become very innovative. Their
latest high quality product is their tornado storn shelters. It is hard for anyone to forget that in
2011 553 Americans lost their lives to tornadoes, and thousands more individuals suffered severe life
altering injuries. In 2013 there have already been 118 confirmed tornadoes and storm season has not even begun.
The Nix tornado storm shelters are designed to resist destruction and penetration during tornado
force winds withstanding objects as large as cars landing on them. At Nix they felt that they had a
responsibility to produce a product of the highest quality that is affordable for families and more
importantly will save lives. The storm shelters fabricated with a 2" structural square tube
frame and 1/4" steel plate sides and roof. Nix Storm shelters may be anchored to existing foundations,
garage floors, or any sufficient concrete surface. The heavy steel door opens to the inside allowing exit
in case of objects landing in front of or against the shelter during a storm.The door's sliding latch
system is quick, easy, and exceptionally strong with 3 high grade 3/4" vault door style pins.
When asked, why should a family choose a Nix storm shelters? Matthew Nix replied "Number one they can save lives. Also, these above
ground shelters are the most cost effective safe alternative on the market, with no expensive and
disruptive excavation required, which is great for both new and existing homes. The shelters are also
a safe alternative for the elderly and handicap, who may find it difficult to climb stairs in case of an
emergency."
Contact Nix Storm Shelters at 812-874-2422 for more information! You can protect your family from
future devastations of tornadoes!