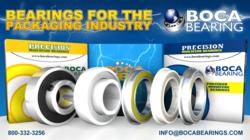 Boynton Beach, FL (PRWEB) March 31, 2013
Boca Bearing Company is pleased to introduce a new line of bearings developed for the different stages of packaging process. The company provides ceramic and ceramic hybrid bearings that can be utilized in the different packaging machinery, ranging from conveyor belts to robotics used to palletize products.
As a long-standing partner with the food packaging industry, the company understands the challenges and needs arising in packaging production. Boca Bearings focuses on maximizing efficiency by providing ceramic and ceramic hybrid bearings that are used in different production environments. As ceramic material has a less porous surface the bearings use less energy which helps a production plant to reduce cost.
Boca Bearings' ceramic bearings can be utilized in the entire packaging manufacturing cycle. Due to the nature of ceramic bearings, they do not corrode or rust and can be used in extreme temperatures; their application can be recommended for machines coming in contact with chemicals, food grade applications, equipment utilizing thermoforming and many others.
Boca Bearings also offers a variety of lube and specialty lubricant products, such as a solid poly lube or ultra-dry lubes which provide solutions for virtually any machinery used in the packaging production process. At last, Boca Bearing Company has one of the largest bearing inventories which is readily available to meet the demands of lean manufacturing.
About Boca Bearing Company
Boca Bearing Company, headquartered in Boynton Beach, FL, is one of the most trusted names in ceramic bearing and lubrication technology. The reduction of rolling resistance and conservation of energy has been the company's hallmark since 1987. Boca Bearing Company is a one-stop-shop for everything from prototyping to production.