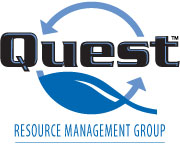 Frisco, Texas (PRWEB) March 29, 2013
Ali Zandi, Quest's director of retail services, had the privilege of speaking about food waste recycling at the Arkansas Recycling Coalition's Spring 2013 Buyers' Summit on March 21st. The summit, held at Virco Manufacturing Corporation, featured presentations on green building innovations, state tax credits, plastics recycling, electronics recycling, waste to energy, and food waste recycling.
Mr. Zandi speaks highly of the coalition's efforts, "The Arkansas Recyclers Coalition does an excellent job of bringing together people from different backgrounds with a mutual goal of achieving zero waste. This will be Quest RMG's second opportunity to present on the topic of Organics (food waste) recycling, a segment that we are proud to have helped establish on a nationwide basis. We look forward to helping others maximize their recycling efforts without increasing their costs, while establishing new relationships."
About Quest
Quest Resource Management Group is a full service environmental consulting and management company, headquartered in Frisco, Texas. Quest helps Fortune 500 companies to maximize profits and mitigate risks, while minimizing their ecological footprints. Quest clients span across all key industry segments, including food services, hospitality, healthcare, manufacturing, construction, automotive aftermarket and fleet industries. Quest Resource Management Group provides North American clients with comprehensive sustainability programs, innovative recycling solutions and proven environmental protection.
Quest prides itself in delivering targeted solutions exclusively tailored to the needs of each respective client. Quest also offers Return on Investment (ROI) and Return on Sustainability (ROS) based road maps to help clients design actionable programs for managing RFPs, defining operational protocols, creating and implementing training programs, and defining best practices. Quest's Sustainability Intelligence Dashboard™ helps clients improve decision making by extracting greater insights through unsurpassed business intelligence.
###