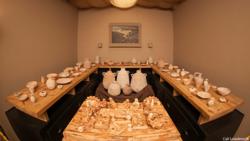 Lynchburg, VA (PRWEB) March 28, 2013
Just in time to celebrate Easter, Liberty University's Center for Judaic Studies opened its new exhibit, "The Authentic Last Supper," this week.
The exhibit resembles the Upper Room, where Jesus met with his disciples to commemorate the Jewish Passover. It includes an accurate depiction of a three-sided table (known as a triclinium) and genuine first-century Herodian period pottery that would have been available at the time of the Last Supper. An ornate woodcarving shows where the disciples would have been seated, based on details in the Gospels.
Dr. Randall Price, executive director of the Center for Judaic Studies, said Scripture and historical research lead to a different perspective than what most people have of the Last Supper.
"Most of us think of the da Vinci picture of The Last Supper, where the disciples and Jesus are on one side of the table, when in fact that painting isn't an accurate display of what the table looked like," Price said.
Price, a leading authority on biblical archaeology, obtained many of the artifacts for his personal collection, now housed at the center. Also included in the new display are artifacts that center around the events leading up to Jesus' crucifixion: 30 pieces of silver, crucifixion nails, a Roman spear point, and an alabaster oil jar. All of the 60-plus pieces on the Last Supper table are authentic first-century pottery from the Jerusalem area.
A painting on the wall shows what the view would have been like from the room, overlooking the lower western city of Jerusalem and the Herodian Second Temple Mount. It was painted by Studio and Digital Arts student Christine Kidd.
The exhibit is meant to "educate and inspire," Price said, giving people a visual of the Jewish Passover meal, the background for the Christian Communion service today.
"We hope those viewing this exhibit will enter into the reality of the Passover/Easter events and strengthen their faith through an understanding of the authentic setting of the Gospel account."
The center is located at 1134 in Arthur S. DeMoss Learning Center (off the back hallway, closest to Reber-Thomas Dining Hall). The new exhibit is available for individual viewing from 10 a.m. to 4:30 p.m. daily and for groups by special appointment. Call (434) 592-3249 or email centerforjudaicstudies(at)liberty(dot)edu for more information.
The Center for Judaic Studies opened in 2008. It serves as a resource center for students, with several displays of artifacts and many reference materials on Jewish studies. Liberty currently offers a minor and a concentration in Jewish Studies through the School of Religion.
Liberty University, located in Lynchburg, Va., is the world's largest Christian university. Nearly 100,000 students attend classes on its 6,800-acre residential campus and study in its thriving online education program.