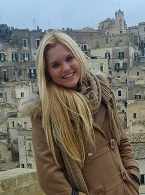 There is just so much going on in the world; I really want to see it all and make a difference.
Westlake Village, CA (PRWEB) March 29, 2013
Oaks Christian Online High School senior Summer Knapp has been studying abroad in Italy for her senior year and has now been accepted to John Cabot American University in Rome. The university has also offered to cover over 50% of her tuition on a Presidential Scholarship and other grants based on her essay about her passion for international travel and service. It's appropriate that Summer would choose a university that's named for John Cabot, the famous Italian navigator who explored North America for the British, as Summer has a passion for travel and has been to Haiti, Panama, Costa Rica, South Africa, Uganda and other countries. She also has three adopted siblings from Guatemala and Puerto Rico. She convinced the scholarship panel through her GPA and an essay and Skype interview that relayed those experiences. She says, "There is just so much going on in the world; I really want to see it all and make a difference."
Summer is currently attending Ettore Majorana ana Leonardo da Vinci (Scientificio) high school in Mola di Bari, on the Eastern coast of Italy, as part of a home-stay exchange program with AFS Intercultural Programs. From the surrounding countryside, she is enjoying some of the best gelato and views in Italy and feels like she has a new home with her host family. She is also thriving in her study of Italian, Physics and Art History. She says, "It's so interesting to study the history of art now, because so much of it is here."
Summer is simultaneously completing her American diploma through Oaks Christian Online School (OCO). She's taken English, American Government, Bible, AP Chemistry and College Counseling through OCO. "I've had a lot of opportunities and was also accepted at the American University of Rome. I would like to major in communications or journalism at John Cabot University and minor in Italian, but my main driving force is God. I think I was born with this passion for world travel. I knew it would be hard to leave my family, but I'm so happy I've done it."
The main campus of Oaks Christian School in Westlake Village, CA opened in the fall of 2000 and Oaks Christian Online School (OCO) opened for full-time, online students in the fall of 2011. The online high school provides a rigorous and challenging college preparatory education for high school students all around the world in a Christian environment. Oaks Christian Online School continues to enroll part-time and full-time students throughout the school year and regularly hosts information sessions on its main campus – 31749 La Tienda Drive, Westlake Village, CA 91362, as well as virtual information sessions for prospective student families. Interested students can visit the website http://online.oakschristian.org to R.S.V.P.
For additional information about Oaks Christian Online School, its courses, curriculum, admissions or application process, please visit http://online.oakschristian.org, call 855.462.6257, or contact a school representative at online(at)oakschristian(dot)org.