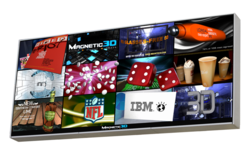 Officially launching Magnetic 3D Connect as a subsidiary under the trusted Magnetic 3D brand is a welcomed progression that we have been looking forward to for quite some time.
New York, New York (PRWEB) March 29, 2013
Magnetic 3D, the industry leader in autostereoscopic, "glasses-free" 3D displays and digital signage solutions, today announced the official launch of a new out-of-home media and experiential marketing subsidiary entitled, "Magnetic 3D Connect."
Magnetic 3D Connect builds on an already established relationship with Mowalla, an experiential marketing company based in Chicago, Illinois. The joint venture utilized Magnetic 3D's glasses-free 3D technology to deliver elevated consumer engagement at the point-of-sale and in out-of-home marketing applications across the country. Magnetic 3D and Mowalla have a shared history of success on the execution of several projects for such brands as Southern Comfort, Woodford Reserve, IBM, and Ticketmaster.
Most recently, the two companies provided their client with an interactive glasses-free 3D experience, promoting its ticket exchange program in multiple locations at Super Bowl XLVII. The campaign was part of the 21st NFL Experience, which was held at the Ernest M. Morial Convention Center in New Orleans, Louisiana. The campaign also included a "Last-Minute Ticketing Destination," which was designed and constructed by Mowalla and allowed visitors to purchase and sell Super Bowl tickets at the sponsor hotel.
Together, Mowalla and Magnetic 3D installed a total of five (5) 46" Magnetic 3D displays featuring Enabl3D™ technology, which showcased a great variety of cutting-edge glasses-free 3D programming. Visitors to the Convention Center were captivated by several custom, high-definition glasses-free 3D sequences that featured renderings of logos and branding for sponsors of Super Bowl XLVII. In addition to the aforementioned graphics, Magnetic 3D also exhibited two different glasses-free 3D feeds that displayed and updated information in real-time. One feed was directly connected to Twitter and displayed event-related tweets while simultaneously encouraging fans to digitally interact with the event; the other was linked to the ticketing website and provided fans with current, up-to-the-minute information regarding fluctuations in Super Bowl ticket prices and subsequent availability.
Similar in scope to the New Orleans deployment was a notable project for IBM's Smarter Commerce Global Summit 2012 in Orlando, Florida. The installation also included a 3D display as the focal point of their Solutions Center which highlighted a book-signing by bestselling author and social media guru Guy Kawasaki.
Additional highlights of Magnetic 3D and Mowalla's teamwork include point-of-sale marketing campaigns for spirits clients in California, Texas and the greater Chicago area. During a one-month spirits campaign at a supermarket chain in California, the use of Magnetic 3D's glasses-free 3D solutions resulted in a 181% increase from the previous year. This same spirits brand campaign ran in Chicago off-premise locations for 90 days, with 70% of shoppers elongating their shopping experience because of the glasses-free 3D displays. The results of the aforementioned point-of-sale campaigns were so successful that the custom glasses-free 3D content was recognized by Digital Signage Expo with a 2012 Silver Content Award under the joint venture's former title, "Kinetik 3D."
"Kinetik 3D proved to be a very successful experiment for both parties to ascertain and measure the effectiveness of glasses-free 3D in various marketing scenarios," said Tom Zerega, founder and CEO of Magnetic 3D. "Officially launching Magnetic 3D Connect as a subsidiary under the trusted Magnetic 3D brand is a welcomed progression that we have been looking forward to for quite some time. The launch will surely help both companies proliferate glasses-free 3D in the digital out-of-home marketplace further than ever before."
With Magnetic 3D assuming the role of majority stakeholder in the group, the Kinetik 3D joint venture will officially be rebranded as "Magnetic 3D Connect." Magnetic 3D and Mowalla will continue to complement each other and create award-winning campaigns. In connection with the name change, the companies already have promising plans for expansion in the near future.
"Aided by Magnetic 3D's industry-leading glasses-free 3D solutions and Mowalla's unmatched expertise in experiential marketing over the past twenty years, our new venture with Magnetic 3D Connect will embrace these core competencies fully to produce unique campaigns that maximize consumer engagement and never cease to amaze," said Chapin Mower, President of Mowalla and Managing Partner of Magnetic 3D Connect.
About Magnetic 3D
Headquartered in New York City, Magnetic 3D (http://www.magnetic3d.com) designs and produces industry leading, end-to-end autostereoscopic 3D display solutions, digital media and creative services. Magnetic 3D's proprietary Enabl3D™ technology modifies flat panel displays, enabling them to show high-definition 3D video content without the need for special eyewear. This process provides audiences with a realistic visual experience that includes both captivating off-screen "pop" and the immersive perception of depth on what would otherwise be a flat display. The company focuses on exceeding clients' 2D expectations by delivering the highest-quality glasses-free 3D visual experience in retail digital signage, gaming, hospitality, movie theaters, casinos, hotels, and other public venues.
About Mowalla
With locations in Chicago, San Diego and Houston, Mowalla helps clients create emotional connectivity with customers through direct involvement. The company specializes in creating quality events that connect audiences with brands through relevant and memorable encounters; be it a corporate conference, non-profit event, or ten thousand-person music festival, Mowalla ensures that each element touches the consumer in a meaningful way.