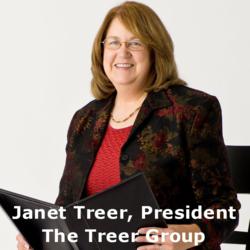 This bibliography of business resources is about people and how to reach higher, achieve more and attain maximum success.
Lancaster, PA (PRWEB) March 29, 2013
The Treer Group is offering free downloads of Janet Treer's eBook, "Business Success Bibliography: Sixty Essential Business Books for Executives & Managers." This extensive listing recommends sixty outstanding books that can help executives, managers and others achieve maximum success in their careers, companies and lives. Download the book at: http://www.thetreergroup.com/getbsb.html.
"This bibliography of business resources is about people," says Janet Treer, President of The Treer Group, a strategic planning, coaching, leadership development and management consulting firm based in Lancaster, PA. "The works I recommend describe how to manage and develop employees, lead teams, guide executives and cultivate customers, all focused on helping individuals and groups reach higher, achieve more and attain maximum success."
The eBook is divided into topical sections: insights, professional development, culture, leadership, strategy & planning, team effectiveness and customer relationships. In addition, Ms. Treer offers her insights on success and change.
It also provides links to both Amazon.com and BarnesandNoble.com making it easy for readers to find out more about the books and place orders with the booksellers. The Treer Group receives none of the proceeds.
"These books have been invaluable resources in my career and life," says Treer. "I hope others will find them as energizing and helpful." Download the eBook.
About The Treer Group: The Treer Group provides coaching, assessments, tools and guidance to help organizations and individuals identify areas in need of improvement, discover practical solutions and implement long-lasting change that comes from within. Janet Treer, President, founded The Treer Group in 2007.