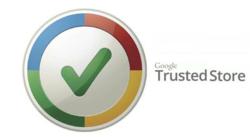 Edison, New Jersey (PRWEB) March 29, 2013
BuyDig.com, the Internet's Digital Superstore, has recently been awarded Google's Trusted Store badge. Google awards this badge only to stores that have a high percentage of on-time shipping, who ship orders quickly, who provide excellent customer service and resolve customer issues quickly and professionally, and who have only a few customer issues that require such assistance. The Google Trusted Store Badge is an independent certification designating that the company offers excellent customer service and reliable shipping. This badge is granted after a rigorous, 28-day evaluation of applicants' customer service and delivery performance. As part of the certification, Google will refund qualifying purchases up to $1,000 from its Trusted Stores at no charge to consumers who opt in to a free purchase protection plan during checkout.
At this time, the Google Trusted Store Badge lists a grade of "A" for BuyDig.com's reliable shipping and its excellent customer service. The average lag time between when an order is placed and shipped is one day and 99.9% of customers experience issue-free orders, with fast resolution when assistance is required.
"At Buydig.com we truly love our customers and we work very hard to prove to our new customer that their satisfaction is most important to us", stated Solomon Mosseri, BuyDig.com's Chief Operating Officer. "We are very proud to have received the prestigious Google Trusted Store Badge and believe it will also reassure our existing customers that they can count on Buydig.com for quality customer service and prompt delivery of their orders."
In addition to this coveted award, BuyDig.com has an A+ rating from the Better Business Bureau and has received high marks from other online vendor rating services.
Along with the fast shipping and great customer service that has made BuyDig.com capable of receiving such awards, BuyDig.com has also updated several of their policies to make buying from them easier. BuyDig.com currently provides free shipping within the continental United States, offers same-day shipping on most orders, and allows for items ordered to be returned within 45 days of their purchase. These policies, when put together with the low prices and great savings offered by this company are part of why so many people have chosen to give BuyDig.com their business.
About BuyDig:
BuyDig.com is a privately held online retailer based in Edison, New Jersey founded in 1983 under its parent company, Beach Trading Co. Specializing in selling digital cameras, electronics, computers, tablets, audio/video, home and garden, kitchenware and more, BuyDig has worked diligently to become the Internet's #1 electronics superstore. BuyDig partners with many of the major CE manufacturers such as Canon, Samsung, Sony, HP, SanDisk, and Toshiba to make consumer technology and electronics affordable and available to the widest market possible. BuyDig also offers free shipping as well as a 45-day return policy on items purchased from their store. By combining legendary customer service with a philosophy of providing more for less, BuyDig.com has earned its reputation as the premier destination for consumer electronics.