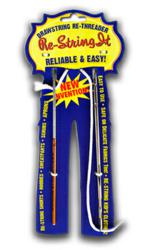 (PRWEB) March 29, 2013
At a time of year when soon-to-be college graduates prepare to enter the workforce and are considering their careers, American inventor and Re-String It creator Chad Archibeck offers advice to aspiring entrepreneurs and inventors.
Archibeck's Re-String it is a universal drawstring re-threading tool that quickly and easily re-threads anything with a string and solves the annoying and time consuming problem of drawstrings coming out of hoodies and pants.
Re-String It has proved to be a highly successful solution that has been called a 'must-have' for any household by numerous users, media and bloggers. But Archibeck recalls a time when his company was merely a concept.
To assist aspiring entrepreneurs and inventors with their business goals Archibeck offers five tips on getting started and staying the course:
1. Believe in the Product
Successful business owners all have a common denominator: they love and believe in what they do. Choose a small business idea that is in line with your interests and passions.
2. Be Ready to Execute
Would you be willing to leave school if the business takes off? Or do you see the business as a side project? Knowing the answers to those questions will be a guide in organizing time and priorities.
3. Play by the Rules
Entrepreneurs and start-ups aren't exempt from registering their businesses, keeping accurate records and paying taxes. Follow the rules. It will prevent legal or administrative headaches in the future.
4. Get a Mentor
A local entrepreneur or business person with a record of achievement could be an invaluable resource to outlining the risks and challenges involved in business.
5. The Web is Your Oyster
The web provides access to unlimited online resources for entrepreneurs. Immerse yourself in resources to learn, help inspire and connect.
For more information on Re-String it or to purchase go to http://www.re-stringit.com.
About Re-String It:
Re-String It is an award-winning product of CWA Enterprises, which was created to bring the perfect must-have domestic tool to market. Re-String It is a heavy duty, versatile re-stringer that is easy to use and won't damage clothing. The rounded edge on the adjustable loop enables use on delicate materials. Visit http://www.re-stringit.com for more information.