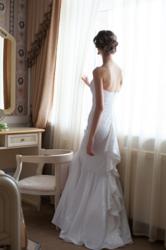 Newport Beach, CA (PRWEB) March 29, 2013
'Try-on fees' have been making an appearance for a few years now, and after an online debate concerning Vera Wang's wedding dress shop in Shanghai, the designer has since decided to rid its store of the controversial fee.
Intended to keep non-serious buyers astray, Vera Wang's wedding dress boutique in Shanghai was charging brides $482 for each 90-minute session of trying on gowns. While the fee is not new to China's high-end shops, Wang retracted the try-on fee subsequent to debate on a microblog (http://www.businessweek.com/articles/2013-03-27/vera-wang-backs-down-from-wedding-dress-try-on-fee). While the reasoning behind a try-on fee is fairly understandable, such a fee would only add to inflating wedding costs and would likely be a deterrent for American brides. As such, experts at Wedding.com believe the likelihood that the trend will make its way into the United States market is slim.
"Every bride should feel comfortable with her wedding dress, and the only way she will be able to figure out what she wants is to try several gowns," says Brett Reynolds, CEO of Wedding.com. "In a time where most American brides are finding creative ways to save, it is highly unlikely they would be willing to pay an extra expense just to try dresses on."
For more information about Wedding.com, please visit http://www.wedding.com.
About Wedding.com
Wedding.com is an innovative new website that connects engaged couples planning their wedding with wedding vendors looking to grow their business. Wedding.com contacts vendors for couples, giving them the power to compare and negotiate while ultimately saving time and money. With 12,000 couples and 22,000 vendors currently using the website, 105,000 proposals have already been sent since their inception. Vendors range in services from wedding planners, photographers, florists, and DJs to custom invitations, party favors, and much more. For additional information about the company and its services, please visit http://www.wedding.com.