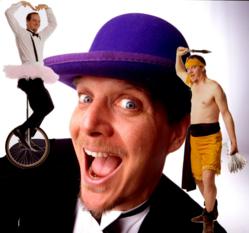 "Wickedly Funny" "A maddening mix of cabaret, burlesque and theater"
Seattle, Washington (PRWEB) March 28, 2013
The news marks a most unusual diversion from the usual lineup at the popular music venue. And it shocked even the star of the show. "Surprise birthday present. Month run of Twisted Cabaret in Seattle" tweeted Frank Olivier to his fans. "Best birthday ever."
In previous incarnations, "Twisted Cabaret" has included a live band but at the time of press, no final decision has been made for the Seattle show. The original show was scored by Nolan Gasser, best known as the architect of Pandora Radio's Music Genome Project. While it is doubtful Gasser could leave Pandora for a month, there is speculation that he may come on board as Musical Director for this project.
A maddening mix of cabaret, burlesque and theater, "Twisted Cabaret" lives up to its name with Knife Throwing, Magic, and a Ballet performed entirely on a unicycle, and much, much more. It stars Helen Hayes, nominated variety artist and actor; and Frank Olivier (Sugar Babies, Tonight Show, America's Got Talent), who through a series of unfortunate events must perform the entire show aided only by his hunchback assistant. Witnessing one man perform all of these diverse skills is amazing enough but the real genius and charm of the show comes from Olivier's rapid fire banter which the New York Times called "Wickedly Funny."
At press time, there was no word on who will play Frank's lovable hunchback assistant. The show has always featured Paul Nathan but calls to his office get only a message saying he is on tour in Europe. Twisted Cabaret was last mounted two years ago in the Belle Époque Theater at the prestigious Glastonbury Festival outside of London. Nathan left the show to pursue his own career and has had a great deal of success with the "I Hate Children Children's Show" which was named Best Children's Show at the Edinburgh Fringe festival and with the German Variety show "Quilitz" which just completed a one year tour. Whether the producers will be able to lure Nathan to Seattle with a goal of influencing the theatrical conversation in the Pacific North West remains to be seen.