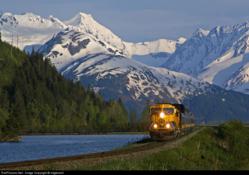 Whether you are an experienced Alaska traveler or it's your first visit, this is a rare opportunity to combine tourism and train travel.
Philadelphia, PA (PRWEB) March 29, 2013
Tickets are selling faster than expected, but it's not too late to join the 2013 National Railway Historical Society (NRHS) convention in Alaska, featuring rare train rides through spectacular scenery and unique tours of museums.
Over 260 registrants have purchased tickets to the September 13-22 convention and all trains are confirmed to operate. The NRHS convention features six days of special train trips on the Alaska Railroad -- many traveling on routes that don't see regular passenger service -- and all trips will allow passengers to stop and take photos in remote locations normally reserved for publicity photographers and adventurous explorers.
The NRHS convention will begin with a "pre-convention" of activities in Fairbanks, followed by a two-day train trip to Anchorage where the main event will begin. Anchorage trains on Sept. 19-21 will feature "Gold Star" service on Alaska full-length dome cars with open-air viewing platforms, lower-level dining space and elevators between floors. Seats on vintage dome cars are sold out, even after adding extra cars. However, coach seats are available for all six excursion trips aboard cars designed for long-distance travel with roomy seating and extra leg room.
"We're planning several exciting photo stops in scenic locations where regular trains normally fly past," said Barton Jennings, rail operations chairman for NRHS. "Some of these places have been used by the Alaska Railroad for their own publicity shoots."
All railroad contracts have been signed and insurance is in place. For more information and to buy tickets, visit the NRHS convention website at:
http://www.nrhs.com/news/2013-convention-tickets-sale-now. Visitors can download a summary of trains, tours, activities, lodging, and more. Updates are also posted on the society's Facebook page.
Tickets are also available for visits to the Museum of Alaska Transportation and Industry (MATI), plus riverboat and bus tours, an afternoon with an 1899-built steam locomotive, railroad history seminars and the society's annual banquet.
Chartered trains include:

A roundtrip excursion from Fairbanks to the community of North Pole, traveling via freight-only trackage. (September 15)
A two-day train trip from Fairbanks to Anchorage through rugged mountain scenery, with an overnight stop in Denali Park. (September 16-17)
A one-day roundtrip from Anchorage to the port town of Seward, featuring mountain grades, tunnels, glaciers, and rivers. (September 19)
A tour of the Alaska Railroad's Anchorage terminal area via several routes that rarely see passenger service, including a trip into the Mat-Su Valley. (September 20)
A roundtrip special from Anchorage to the old military port town of Whittier and a side trip to Spencer. The day includes a ride through the Anton Anderson tunnel, the longest combined rail and highway tunnel in North America. (September 21)
Included are numerous stops for photos and to visit historic sites. All registrants will receive a 100-page commemorative book that covers the history of the Alaska Railroad and also serves as a mile-by-mile route guide.
"Whether you are an experienced Alaska traveler or it's your first visit, this is a rare opportunity to combine tourism and train travel," said Greg Molloy, president of NRHS. "September is usually peak fall color season, temperatures are cool but pleasant and snow is starting to appear atop the mountains."
The convention is timed for the September "shoulder season," when Alaska is less crowded and prices are more economical than during the peak summer period. NRHS has arranged attractive discounts to encourage individual tourism.
Alaska Airlines is the official airline for the convention in Anchorage and Fairbanks. Air travel may be booked at a discounted rate for dates beginning September 7 and ending September 29.
About NRHS
Founded in 1935, the National Railway Historical Society (NRHS) is a non-profit organization established to preserve and raise awareness of America's railroad heritage. NRHS operates historic rail excursions and tours throughout North America and supports more than 160 regional chapters. During the past 10 years, the society has awarded more than $500,000 in railroad preservation grants; it also sponsors RailCamp, a summer orientation program offering high school youth hands-on experience in the railroad industry. For more information, visit http://www.nrhs.com.
Media Contacts:
Barton Jennings
Chairman, NRHS Rail Operations
309-465-9481
b.jennings(at)mchsi(dot)com
Elrond Lawrence
Director, NRHS Public Relations
831-632-2183
elawrence(at)nrhs(dot)com