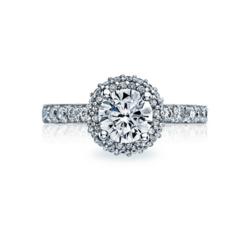 Miami, Florida (PRWEB) March 29, 2013
Known for providing Miami residents with a wide array of gorgeous high-end jewelry, Barclay's Jewelers is excited to welcome these new selections from Tacori. Bridal and engagement rings by Tacori designers feature a taste of classic elegance expertly melded with modern inspiration, resulting in some of the most exquisite and highly regarded jewelry in the world. The partnership between Barclays Jewelers and Tacori brings these coveted jewelry creations to citizens of the Miami region who yearn for opulence from brand names they trust. Barclays invites couples to browse its Tacori selections online at http://www.barclaysjewelry.com or stop by the store to view this collection in person.
Tacori Engagement Rings from Barclay's Jewelers -- The new additions to Barclay's Jewelers' selection of engagement rings round out the Tacori collection with style and elegance. From traditionally simple pieces boasting a single perfect stone to diamond-encrusted engagement rings that speak to opulence, Barclay's Jewelers now have it all. Available in white gold, rose gold, yellow gold or platinum, each Tacori engagement ring from Barclay's comes with a certificate of authenticity supplied by Tacori. Competitively priced and presented with exacting standards, Barclay's is your connection to a wealth of beautiful Tacori bridal jewelry.
About Tacori -- For over four decades, the Tacorian family has infused its jewelry creations with the proud traditions of passion and creativity. Guided by the family's patriarch, Haig Tacorian, each piece of Tacori showcases unique design elements developed to capture and reflect light, resulting in a brilliant sheen, dazzling luster and unrivaled workmanship.
About Barclay's Jewelers -- Working from its mission of trust, high ethics, industry knowledge and fair pricing, Barclay's has served Miami families for over 30 years. During this time, the business has grown to become the area's trusted source for brilliant diamond engagement rings from brands such as Tacori, Danhov, Verragio, Natalie K and many more. Committed to ensuring each customer feels welcome and cared for, Barclay's Jewelers offers personalized service as well as classic and cutting-edge jewelry. To browse the new Tacori engagement rings, visit Barclay's online at http://www.barclaysjewelry.com or dial 305-371-3476 to speak with a representative.