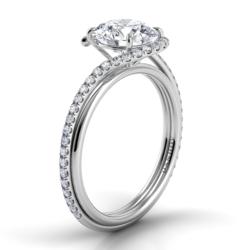 Los Angeles, California (PRWEB) March 29, 2013
Anticipated by jewelry designers and jewelry lovers alike, the JCK Jewelers Choice awards showcases the top names in jewelry design every year. Danhov, a respected name in the industry for more than 28 years, is proud to receive this recognition and would like to reveal its two winners to fans of fine jewelry and unflagging craftsmanship the world over. Danhov's elite designs are only available at select retailers who showcase these jewelry creations. Since customers cannot visit the Danhov factory, they are encouraged to view the designs online or at an authorized jewelry store. Danhov jewelry is hand-crafted and hand-made in the USA.
Danhov Classico Solitaire Engagement Ring - CL140– Refined and utterly elegant, this solitaire engagement ring by Danhov requires no extraneous ornamentation to demonstrate its beauty. Sold without the center stone, the ring can be set with either 0.75 to 4.00 carat round diamond center atop a sleek single shank ending in a gracefully embellished setting that holds the stone securely. The shank's strong, beautiful lines convey the simple artistry of bygone days while the diamond captures the eye and refuses to let it go. Hand-made entirely in the USA, the Classico is available in 18k white gold.
Danhov Abbraccio Engagement Ring- AE155 – Exquisitely designed, this ring is pave-set with 54 brilliant cut round diamonds with a total carat weight of 0.32ct. and speaks to both traditional and modern tastes. Rows of stones rise gracefully along each side of the shank, ending in a beautiful setting that wraps around the large center stone and holds it in place. Available in 18k or 14k white gold, this ring is hand-crafted in the USA and represents the essence of opulence in a package any woman would love. Danhov's Abbraccio collection has won numerous awards and this ring is the newest addition.
About Danhov:
With an eye towards revolutionizing the luxury jewelry industry with fresh and innovative design philosophies, Khajag "Jack" Hovsepian founded Danhov in 1984. From an early age, Jack placed his focus on marrying artistry with precision and has gone on to set new standards in jewelry design. Jack's passion and jewelry design philosophies ensure Danhov customers receive a unique piece of jewelry that represents both their personality and their exacting taste. For more information about Danhov, or to explore the company's award-winning jewelry collections, visit http://www.danhov.com today.