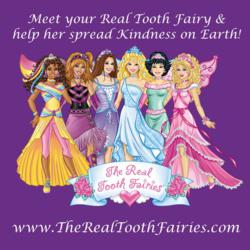 What does the tooth fairy look like? Who is the tooth fairy? What does the tooth fairy do with my teeth?
Wilmington, NC (PRWEB) March 29, 2013
The Royal Council of Real Fairyland announced today that over 6 million unique visitors have experienced the company's award-winning website, http://www.therealtoothfairies.com. The reason: Letters to the Tooth Fairy.
Imagine you're a girl who has found a way to Magic Message your tooth fairy online-- and she answers you back with a letter on your pillow! Now more than a fanciful imagining, it's a reality for girls ages 5 to10 years old. Thanks to the Royal Council of the Real Fairyland, LLC, an entertainment company dedicated to inspiring imagination, fostering creativity, building character and encouraging girls to spread kindness and change the world.
The Tooth Fairy is a cultural icon and a magical visitor that dreams are made of around the world. But questions abound. What does the Tooth Fairy look like? What is her name? What does the Tooth Fairy do with my teeth? Where does the she live? How can I meet my Tooth Fairy?
Now over 6 million Earthie visitors have found the answers to those questions and more at an award-winning interactive online world of the Tooth Fairy, filled with imaginative adventures, engaging stories, silly spells and magical activities that captivate girls and their parents: http://www.therealtoothfairies.com The most popular activity in Real Fairyland is sending the Tooth Fairy a Magic Message. Then magically, the girl's Tooth Fairy answers back with a personalized Tooth Fairy letter that appears on the girl's own pillow that night!
How it works is simple. A girl goes online to TheRealToothFairies.com - with her parent's permission – and gets matched to her own Tooth Fairy during the Royal Quiz, which consists of simple questions about the girl's interests. This begins a relationship between a Tooth Fairy and an "Earthie," as human girls are called, where the two write back and forth like best friends sharing all of a growing girl's day to day experiences – her proud moments and her heartaches. Topics a girl can write about include: being proud of an activity, making friends, having a good day at school or camp, a big day in sports, a birthday, being sick or injured, or EVEN having a lost tooth!
The Magic Messaging between the Real Tooth Fairy and her Earthie girl has been arranged through magical inter-realm communication channels by Marilyn Bollinger, President of Earth-based operations for The Real Tooth Fairies.com. "Our goal is to connect with girls in a way that has never been done before. The Magic Letter – delivered straight to the girl's pillow and personalized to the news she shared in her Magic Message - is just one of the ways to nurture this most special childhood friendship," Bollinger says.
Moms love the letters because the Tooth Fairy is also a caring mentor and friend for the growing pains every girl faces – like having a friendship challenge from bullying or teasing, or a having a hard time at home. "Like a wise, loving older sister, the Real Tooth Fairy writes letters that offer wisdom in girl-sized doses while celebrating each girl's unique gifts," says Bollinger, who has a background as a family and children's therapist, as well as being an author/product developer for Disney, LeapFrog, and Fisher-Price.
Each Tooth Fairy letter also includes beautiful Real Fairyland illustrations and mini-stories related to the girl's event she shared with her Tooth Fairy. Then the Real Tooth Fairy flies the letter right to the girl's pillow – always with parent permission. Childhood is all about heartwarming memories girls can share with their families – and the Real Tooth Fairies have just made these childhood milestones more magical!
About The Real Tooth Fairies
The Real Tooth Fairies are represented to Earthies by the Royal Council of the Real Fairyland, LLC, an entertainment company dedicated to excellence in programming and interactive media. Their consumer products inspire imagination, foster creativity, and encourage children to spread kindness and change the world. The Real Tooth Fairies focus on character building through positive role models, the 20 Lost Tooth Virtues, and Every Kindness Counts. In addition, a school kindness program involves students in a two week program wherein kids are heroes for kindness in their family, school, and community while supporting a global charity.
Marilyn Bollinger, president of The Real Tooth Fairies, is the author of 30 Disney books and has consulted for LeapFrog, Fisher-Price and other top children's companies. As a licensed clinical social worker, she practices family and children's therapy and is a leader of parenting workshops. And of course, she's honored to be the Earth's ambassador to all things Real Fairyland, where Love is Magic and Every Kindness Counts!
Learn more about the Real Tooth Fairies at http://www.TheRealToothFairies.com/guest-services/about-us Girls can Get Matched to their Tooth Fairy at http://www.TheRealToothFairies.com/registration
For parents to give the Tooth Fairy permission to fly a free Personalized Tooth Fairy Letter to their girl's pillow, go to http://www.therealtoothfairies.com/for-parents/magic-letter-login
To spread Kindness in your family today go to http://www.therealtoothfairies.com/kindness
Find an Official Real Tooth Fairy Dentist at http://www.therealtoothfairies.com/official-rtf-dentists