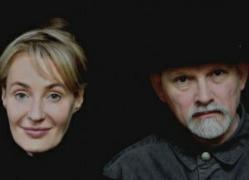 I thought Anastasis was a good title given our reunion
Napa, CA (PRWEB) March 28, 2013
On the cover of Anastasis, Dead Can Dance's first album in 16 years: a field of sunflowers, ripened, and then blackened, by the sun, standing with sad, slightly crowned heads. Less dead than dormant, the heads and stems will one day be chopped, but then via the roots, will return. For Anastasis is the Greek word for 'resurrection' and the seemingly dead will dance again.
"I thought Anastasis was a good title given our reunion," explains Brendan Perry, who, with Lisa Gerrard, formed the band in Melbourne, Australia in 1981, releasing seven studio albums, and one live album, before going their own ways after 1996's Spiritchaser. "Anastasis also means 'in between two stages'," he adds. "Regeneration comes with the next season."
Anastasis is perfectly apt given how the album is an astonishing regeneration of the legendary beauty, power and spellbinding nature of the duo's unique sound and vision. Age hasn't withered DCD, not the passing of the years; if anything, the album sounds bolder, stronger, more confident in its vision. There's surely no other musical force on the planet that sounds so stately and yet mesmeric; who combine so effortlessly the spiritual and the earthbound with music that's not tied to any one century, but roams freely between the ages as well as the continents.
Tickets for Dead Can Dance plus David Kuckhermann are $60/70. They are on sale now and can be purchased through the theatre website at http://www.uptowntheatrenapa.com, at Ticketmaster (http://www.ticketmaster.com) or at the theatre box office (please call 707.259.0123 ext. 6 for hours). To find out more, please visit http://www.uptowntheatrenapa.com.
The Uptown Theatre Napa is downtown's ultimate destination for live concerts. Nestled in the famed West End district, this stunningly restored art deco masterpiece showcases only the finest acts, featuring music, comedy and more. An historic landmark, the Uptown offers a phenomenal, intimate live show experience, with excellent site lines and world class sound and lighting. As concert venues go, this is the place to be. Every seat is a great seat so buy concert tickets now!